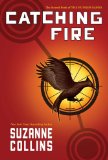 To start with an obvious understatement: Much will be said about this book. While I cannot predict how other reviewers will assess Suzanne Collins' Catching Fire, I think you can bet the bank that the majority of them will utilize the word intense.
As a follow up to last year's hugely successful The Hunger Games, this second book in the series of three does not disappoint. With a setting of a post-apocalyptic United States now called Panem, under the harsh and never-blinking rule of The Capitol, this trilogy forces readers to consider more than just what's at the surface of the story. Even though the protagonist Katniss has survived The Games, security seems unattainable in a world where President Snow seems out to punish her personally.
While I wasn't immediately sucked right back into the story, I attribute much of that to my own inexperience with "Young Adult" fiction, and soon enough the plot begins to pick up the pace, until it plateaus at a breakneck speed right through to the final pages. You can rest assured that I will offer no plot spoilers here, even though I am dying to talk about these events with someone! (My dear husband is experiencing much pressure to begin reading RIGHT NOW.) That being said, I give away nothing when I say that the themes of survival and oppression continue in this next part of the saga, yet these themes grow deeper as the questions for Katniss to ponder become more about what she's surviving for, and the value of personal safety for herself and her loved ones, compared to the greater good.
I love that just as in The Hunger Games (linked to my review), the reader gets to experience this story right alongside Katniss, hearing her voice and her perspective on the never-predictable events under the rule of The Capitol. So much of the telling of the story involves hearing Katniss' own questions about what is happening around her and what the future holds, if there is a future at all. Overall, it was my impression that the intensity was higher this time around, as not only was my heart beating fast, but I had to take several breaks simply to get some truly horrible images of abuses of power out of my head. Even as I say that, though, I still think this is an incredible story with a socio-political undercurrent that is undeniably worthy of thought and discussion.
If I had to significantly shorten my review of Catching Fire, I think I'd be torn among these statements:
This is the kind of book that I force myself to hold my hand over the final sentences of each chapter as I get closer, so that my cheating eyes will not stray in their attempt to consume the words as quickly as possible.
This is the kind of book whose characters go on living in my heart, in my mind and in my dreams for a long, long time after the final page is turned.
This is the kind of book that I wish I could read side-by-side with someone else, so that my outbursts and gasps and hot tears could be shared in the immediacy of the emotional reading.
With a tentative release date of 2010 for the final installment of the series, there will be a part of my brain that keeps the story on 'pause,' anxiously awaiting the opportunity to experience this world again, right along with Katniss.
I'm sure you won't be surprised to discover that I've added this to our collection of 5 Star Reads.
We are feeling the love today, and I'm willing to bet that if you read through this entire review, you're going to want to head over to the Catching Fire Giveaway post right now. Click away and enter to win over on that post!

We also invite you to subscribe to our feed, follow us @5M4B on Twitter, and enter our other giveaways.
Now that she's finished this book, Dawn can breathe again. Enough at least to blog away at my thoughts exactly.