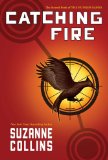 Yes, this is what you've been waiting for. Today marks the release of Suzanne Collins' Catching Fire, the latest installment in The Hunger Games series. If you find yourself filled with anxiety about when you can finally get your hands on a copy of this book, let me reassure you that you are in the right place. I'd like to encourage you to take a few minutes to read my review, and when you return, may I suggest you sit down before continuing to read on.
We LOVE to offer you, our dear readers, fantastic giveaways as often as we can, and let us just say that the one we're about to offer is gold standard. Three of you incredibly lucky commenters will receive:
1 limited edition promotional T-shirt (View here)
1 collectible mocking jay pin/button
1 hardcover copy of Catching Fire
What say you? If you are interested, please leave a comment on this post to be entered(U.S. shipping addresses only). The winners will be announced on 9/16! Can you feel the excitement, people?
This giveaway is now closed. Thanks for the entries!
Dawn is prone to getting overexcited on her blog, my thoughts exactly, as well. Seriously, she is thrilled about this giveaway.

Subscribe to our feed. Follow us @5M4B on Twitter. Enter our other giveaways.