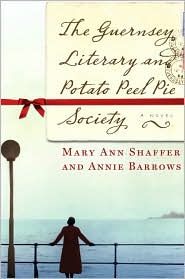 After my second reading of The Guernsey Literary and Potato Peel Pie Society, I stand by my initial review. This book is simply enchanting. But that doesn't make for good bookclub discussion, so I'll answer the first two discussion questions I asked you to consider as you read.
Is this your first book of letters — fiction or non-fiction? If so, do you like this particular writing style? Why or why not?
Guernsey was my first book of letters. After reading it, I'd like to read a non-fiction book of letters. I think letters give insight to a person that you'd not otherwise have. Which leads to the second question I asked:
Do you think Guernsey would have been the same if the author had employed the typical fiction narrative? Would it have been better, or worse?
Maybe I'm wrong, but I think Guernsey works because of the letters. If the book had been written from any one character's perspective or from a third-person narrative, I don't think I would have fallen in love with the characters as I did. This time through, I marked some of my favorite lines (with bookmarks, as I was reading a library copy and couldn't write in the book!) These quotes revealed sides of the characters that I'm not sure a narrative could have conveyed.
Lamb also taught Hunt's youngest daughter to say the Lord's Prayer backward. You naturally want to learn everything you can about a man like that. (Juliet to Dawsey)
Reading good books ruins you for enjoying bad books. (Isola to Juliet)
What on earth did you say to Isola? She stopped in on her way to pick up Pride and Prejudice and to berate me for never telling her about Elizabeth Bennet and Mr. Darcy. (Juliet to Sidney)
Mrs. Guilbert has always been a nasty one, but now I know that she can't help it – she's got a big pit in her Benevolence spot. She fell in the quarry when she was a girl, and my guess is that she cracked her Benevolence and was never the same since. (Isola to Sidney)
He (Dawsey) did not say much at our first meeting – nor at any of our meetings since, come to think of it – but let him walk into a room, and everyone in it seems to breathe a little sigh of relief. I have never in my life had that effect on anyone, can't imagine why not. (Sidney to Sophie)
And these are just a few of the many reasons why I adore this witty, funny, and even tear-jerking work (it's one of my 5-Star Reads). I could go on forever, but I want to hear your thoughts.
What say you about Guernsey? Did you enjoy your visit there as much as I? Please link up your post in the Linky or leave your thoughts in the comments.
Melissa has been captivated by books for as long as she can remember. She resides in Virginia and blogs at Breath of Life.
Upcoming bookclub schedule:

October 6: Rooftops of Tehran

November 3: Any work by Louisa May Alcott

December and January: off months — eat some extra holiday pie