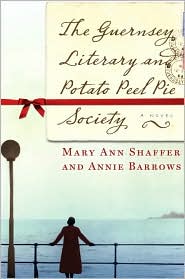 I first read The Guernsey Literary and Potato Peel Pie Society in January. As you might guess from my review, it earned a place on my list of favorite books of all time.
That's why I'm so very excited that it's our Bookclub choice for September (plus, now I feel justified in reading it again so soon!). If you haven't read this delightful book, I encourage you to pick up a copy and join us on September 1st. Here are some things to consider while you read:
~Is this your first book of letters — fiction or non-fiction? If so, do you like this particular writing style? Why or why not?

~Do you think Guernsey would have been the same if the author had employed the typical fiction narrative? Would it have been better, or worse?

~Who is your favorite character? Why?

~How does the reading that brings the Society's members together become more than an alibi? What do their literary choices say about each character?

~In her last letter, Juliet says that she is …in a constant state of surprise these days. What do you think she means by that?
Of course, these questions are merely suggestions. I think one of the marks of a great book is the discussion it sparks. I can't wait to come back next week to see what kind of discussion we'll have about this book that has become near and dear to my heart.
Come back on September 1 to link up your post from your own blog, or to answer the questions in the comment field, and then we'll visit around and discuss and enjoy this book together.
Check out our schedule through the end of the year at our Bookclub page so you can make plans to join us as we get together to discuss a different book that we've read on the first Tuesday of each month.
Melissa has been captivated by books for as long as she can remember. She resides in Virginia and blogs at Breath of Life.