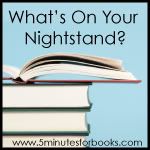 Many kids are going back to school now. I don't know if that will increase your reading time, or decrease it as a result of more general activities starting back up. I'm trying to regain a sense of discipline with the new Back-to-School schedule, including doing better setting aside time for my work-at-home job, but reading will not take a backseat.

Speaking of Back-to-School, check out all of our Back-to-School Giveaways (as well as the Back to School Giveaways that 5 Minutes for Mom is hosting)! You can still enter to win through August 30.
Are you new to Nightstand? Do you want to know what it's all about? You can find all the information you want to know at the What's on Your Nightstand page.
But basically, just come here to 5 Minutes for Books on the fourth Tuesday of each month. You can either link up a post that you've written on your own blog about what is on your nightstand (what you plan to read in the upcoming month, what you've just finished reading — your choice!). Then visit around and watch your TBR list grow.
Non bloggers can participate by visiting the links and can leave their information in the comment field.
Check out our new policy:

To make things fair, we'll post it at midnight Eastern on odd numbered months and at 7:00am Eastern on even numbered months.
Now everyone gets a chance to be at the top of the Linky. We'll start next month (at midnight), but you East-coasters can remember that your chance to sneak in earlier will come on the even-numbered months (first one is October!).

Join in our other Tuesday community events:
Check out our current giveaways. Subscribe to our feed. Follow us @5M4B on Twitter.