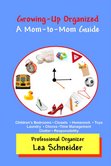 I am NOT organized by nature, and my husband (who IS organized by nature) has been reminding me lately that I am modeling bad habits for kids. If I don't teach them good habits now, they aren't going to learn it later in life.
Professional Organizer Lea Schneider takes a similar approach in her book Growing Up Organized: A Mom to Mom Guide. She also reminds us moms that trying to do everything yourself makes it almost impossible to be organized. In each chapter she underscores several principles:
You can get rid of clutter.
You can become organized.
Your children can learn personal responsibility for their things.
The family can work together.
This book was easy to read and is chock-full of advice that is practical and easy to implement. Topics that were of particular interest to me are
How to tackle a big organizing job
Keeping up with the cleaning (maintenance)
Sharing the household chores with the family
She also includes things in this book targeted directly to families – things I would not have considered an organizational issue, such as managing homework and reading deadlines and those school lunches!
"Part of disorganization comes from trying to do everything for everybody" (page 153). Does that resonate with anyone else? Are you tired of trying to keep up with your own stuff and everyone else's?
You can buy this book (and I recommend that you do!), either on amazon or at her website (where you can also buy an e-book, which is the version I used so that I could download it to my Kindle, using the emailed pdf option. Other than a few formatting glitches, I enjoyed reading it this way.).
You can find more information at Lea's Organize Right Now! site, including signing up for her newsletter.
One of you will win your choice of a printed copy (U.S. only) or an E-book (anywhere in the world!). Leave a comment if you'd like to win. Just for fun, tell us who the most disorganized person in your home is (you don't have to name names).
Jennifer Donovan would have honestly said she was most disorganized in her family, but lately her tween daughter is edging her out. Read more about her family's strengths and weaknesses at Snapshot.

This is part of the 2009 Back-to-School Giveaway. We'd love it if you helped spread the word!
Leave a comment on this post as your entry.
This giveaway is open to residents anywhere in the world (e-book only)! One entry per person.
New giveaways will be posted through August 26. Winners will be announced August 31.
Check out the list of the other giveaways in the 2009 Back-to-School Giveaway at the main post.