Pencils. Bookbags. Clothes.
A new schedule. New assignments. New interests.
It's back-to-school time! We at 5 Minutes for Books want to help usher in this new season with some great giveaways designed to help you get organized, get ready for school, and to supply you some great books for learning or leisure-reading.
Join us for the next two weeks for new giveaway posts. New giveaways will be posted August 12 – 26 and updated on this page so that you can click through and enter the ones that interest you. The winners will be announced on August 31.
Comments have been closed on this post to remind you to leave your comment/entry on each of the individual posts.
We would love it if you helped spread the word by tweeting this post, writing a blog linking to this post or posting the button in your sidebar, and/or sending an email to your friends as a way to support our sponsors. The better our participation in giveaways, the better giveaways we can offer in the future.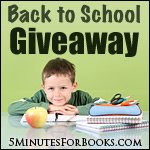 Click through and enter each individual giveaway:
One U.S. resident will win a set of Tell Me a Story cards.
Three readers (U.S. and Canada) will win their choice for four PakNak charms, and everyone can get a discount.
One reader (U.S. only) will win a Homework Helpster and Vocabulary Power flipbook of her choice.
Five readers (U.S. only) will win a set of four Otter and Owl "I Can Read" books.
One of you (U.S. only) will win the memoir Writing Places by William Zinsser
We have one planner and one calendar from BusyBodyBook to give away to two U.S. residents.
One U.S. resident will be able to personalize a book at Inscribe-It.
One U.S. resident will win two 3-D Explorer books from Silver Dolphin Books.
Three U.S. residents will each win the book and CD set of The Scrambled States of America.
One of you will win a copy of Pocket Doodles.
One U.S. resident will win a copy of the new novel Sleepless Nights by Sarah Bilston.
One of you lucky readers will win a copy of Julie Carobini's newest book, Sweet Waters.
One commenter will win a calendar and journal set from Peter Pauper Press.
2 of you will win a copy of Soccer for Moms (and everyone can get a discount).
We have a copy of Growing Up Organized (hard copy to U.S. only, or e-book to anywhere in the world!)