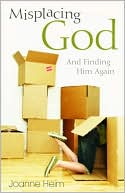 Misplacing God (and finding Him again) is written by my bloggy friend, Joanne Heim. I first "met" Joanne through her book Living Simply: Choosing Less in a World of More, which I devoured. Since that time, we've become good blog friends and prayer partners. Joanne is authentic, insightful, and just plain fun.
This book is written for those of us who find ourselves wondering where God has gone in our lives. Of course, as Joanne points out, He hasn't gone anywhere. We've just misplaced Him. Instead of putting Him in first place where He belongs, we've allowed other things to creep in. Still, He's there. As Joanne so wisely says
…finding God is about training ourselves to look to the truth of his presence, to embrace practices that open our eyes to that truth, rather than doubting his truth because it doesn't feel like he's here today.
Joanne guides the reader through the practicalities of having a relationship with God, such as finding a practice of how you want your quiet time to look, and finding a place to make it happen every day. She also offers peeks into her own journey of finding herself feeling distant from God and making her way back.
Honest and forthright, Misplacing God (and finding Him again) is a wonderful resource if you're struggling in your walk or if you know someone else who is.
Melissa has been captivated by books for as long as she can remember. She resides in Virginia and blogs at Breath of Life.