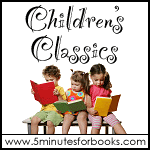 As the wise Dr. Seuss proclaimed, oh the places you can go! Of course, we all know that I'm talking about the places you can go between the covers of a book. This month's Children's Classics invites you to share your favorite adventure stories– which children's books have taken you and your favorite little ones on an adventurous ride? Please do share with your fellow book lovers!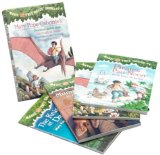 With this theme, I find myself thinking mostly about the reading I've shared with my older son over the last few years. When he first learned to read independently, he absolutely fell in love with the Magic Tree House book series, and while I may be stretching the classics label here a bit, I do believe that these are simply some of the best beginner chapter books for new readers. The stories are compact, but boy oh boy, are they ever adventurous! I have fond memories of squeezing on the bottom bunk with my son, and traveling through time to protect dinosaur eggs, hang out with Leonardo da Vinci, and watch volcanoes erupt, to name just a few of our adventures. Whenever I'm asked by friends or acquaintances for beginning reader recommendations, The Magic Tree House books are always number one on my list.

Now that my son has had the audacity to grow older (he turns 9 tomorrow!), the scope of his reading choices has expanded, and it thrills me to say that he's taking some reading adventures of his own thanks to several titles from the Great Illustrated Classics series, with the Swiss Family Robinson being his favorite so far. With these books, older children (and adults, if they so choose!) can be introduced to classic novels in an abridged and easier-to-read format, and among the 70 titles offered, adventure abounds, especially in his favorite selection as the Robinson family learns to survive after being shipwrecked on an uninhabited island. This is the type of book that he simply cannot put down, not wanting to pause the action until he reaches the final page, reminding me of the power of a good adventurous read!
How about you? I turn the floor (the computer screen?) over to you to share the adventurous titles you and your children adore. Please link up to your own blog post, or feel free to tell us all about your faves in the comments. I can't wait to read your stories!
While you're here, mark your calendars with the upcoming Children's Classics schedule:
September 8 — Back to school books
October 13 — Re-reading a childhood favorite
November 10 — Celebrating the holidays
December 8 — Children's books you love to give
Dawn and her children often live vicariously through book adventures, keeping costs and travel immunizations to a minimum. Blogging at my thoughts exactly is one of her favorite adventures of all.