Has it been a year already? Well, yes — actually a year and a month. Our official anniversary was July 10, but you know how kids with birthdays at inconvenient times like summer vacation and Christmas often have to celebrate some other time? I think that's what happened to us.
It's been a wonderful year, and I didn't want to just let it slip by unnoticed.
Some things have remained the same, but there have been some changes as well. We've featured at least one giveaway each week (on Wednesdays with additional ones scheduled on other days at times). We've had some fun giveaway events for Mother's Day and Summer (and this Wednesday will kick off our two-week Back to School Giveaway). We added a "current giveaways" link on our navbar, so be sure to check it out each week to make sure you aren't missing anything.
For the most part, our team has remained the same. Carrie, Melissa, Lauren, Lisa, and I Jennifer have all been in it since the beginning. We added Dawn back in January, specifically to help me with the popular fiction titles. Our names are all linked to our reviews, if you want to check out each reviewer's tastes. You can always search by category on our right-hand sidebar, to look for more books in your favorite genre, as a gift idea for a niece of a certain age, or by reviewer.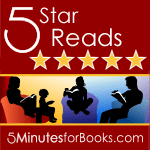 Another resource that I hope will be helpful to you in selecting books or gifts is our brand-new "5 Star Reads" page. This is reserved for the best of the best. In fact, there are some books that we left off the list, because they were just 4 + stars (since you can assume as a rule that we find any book that we review worth a recommendation, even if it wasn't our favorite).
You can visit our 5 Star Reads page to check out the books that earned this rating, and also find it linked in our sidebar for quick reference. We also created a 5 Star Reads category, with which we'll tag future 5 Star Reads.
We've loved hosting a different community event each Tuesday. We enjoy visiting around as well as giving your blogs some exposure. We've made new landing pages for each of the carnivals to better explain them to newcomers. Check them out.
If you happen to have a button in your sidebar (thank you!!), you might want to update the a href= reference in the code to match the new landing page for each of them. We've linked to past editions on each page as well.
Fourth Tuesday — What's on Your Nightstand
Third Tuesday — Kids' Picks
Second Tuesday — Children's Classics
First Tuesday — Bookclub
The Bookclub is the one Tuesday even that's had some changes (okay — a lot of changes). We are trying to keep the focus on classics, but also maximize participation. While some of you LOVE the opportunity to read or re-read a classic each month, we've realized that while many of you have wanted to join in, life gets in the way.
We toyed with several changes, and we're still evaluating, but we've made a schedule for the rest of 2009 that we hope will garner even more participation and interaction. We are going to explore some popular fiction titles along with classics. The new schedule can be found at our Bookclub landing page. Past bookclubs are also linked. A reminder about the next month's selection will be posted in the left sidebar.
We'd love it if you left us a little "bloggyversary" greeting. We're so thankful for your participation and support. It's our pleasure and privilege to bring you these book reviews.