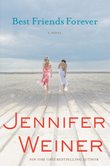 Jennifer Weiner writes with humor, self-awareness, heart, and sensitivity — all with an honest approach that never goes over-the-top into the realm of sappy or maudlin. Her latest novel, Best Friends Forever takes a little darker approach, but is still classic Jennifer Weiner.
It's time for Addie's fifteen-year high school reunion. Since her parents have died, she has made their home her own. So, she's living in the same place she lived in high school, but nothing could drag her to the reunion. High school didn't treat Addie so well, since it isn't usually kind to loner girls who are slightly overweight.
Read the rest of my review and enter to win one of 3 copies at 5 Minutes for Mom.
Jennifer Donovan contributes to 5 Minutes for Mom, manages 5 Minutes for Books, and blogs at Snapshot.