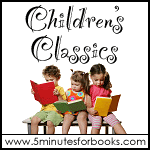 Next Tuesday I'd like to invite you to join us for the monthly Children's Classics carnival. Some people are passionate about children's literature. I'd love to tap into your expertise or simply allow you to share your opinions about what you like as recommendations for your children, or even what you enjoy for yourself as an adult.
Each month we will have a topic concerning Children's Classics. Next week (August 12) we are going to focus on chapter books for the "middle grade" reader, around ages 8 – 12. In future months we'll cover picture books, readers for younger kids, and perhaps award winners, and of course we'll come back to all the great chapter books out there as well.
What's considered a classic as far as children's literature goes? Well, that's up for interpretation, since children's books go in and out of print more than adult literature that is decades old. But a classic work, regardless of target age, should be a book people have heard of. You may not have read it, but the name would probably spark some sort of "a-ha."
So, next week, write up a post on your own site about one (or more) children's classic chapter book(s). If you need some guidelines, try these thought-starters:
Would you recommend the book? To whom?

If you wouldn't recommend it, why do you think it's been so popular?

Has your child recently discovered a classic author? What is his or her perspective on the differences in classic and contemporary children's writing?

Have you recently shared a childhood favorite with your own child? How did you each respond to it?
If you'd like to use this button on your post next week, or help us spread the word, feel free to grab the code (and thank you!):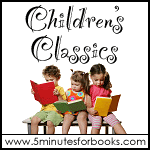 This carnival was Carrie's idea, and her husband so kindly whipped up this cute button for us.
If you haven't noticed the pattern, Tuesday is going to be carnival day:
Join us the first Tuesday for Classics Bookclub
The second Tuesday for Children's Classics
The third Tuesday to be determined (any ideas?)
The fourth Tuesday is What's on Your Nightstand? By the way, I am amazed at the number of links for What's on Your Nightstand? for this first month. People keep adding their posts, so if you'd like to keep reading about what everyone else is reading, click on over. I will close the links in a few days, so that people can participate next month, but you're welcome to join in through the end of the week.
You can see the entire schedule of past and future Children's Classics posts at our Join In page. You can also see the schedule for our other Tuesday community events.