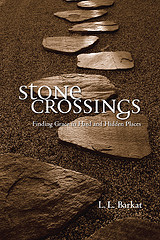 L.L. Barkat's Seedlings in Stone blog was one of the first on my list of favorite reads when I entered the blogging community. When she mentioned that her book was coming out, and she'd need some people to review it when it came out to help spread the word, I lifted a cyber-hand quickly.
Barkat's blogging is sparse. She doesn't use many words, but that allows the words that she does choose to really sink in. There's nothing extraneous to clog up her thoughts–nothing but perhaps a crisp beautiful picture, that is.
How would an entire book of these weighty words read?
When you offer to review a "friend's" book, or a friend of a friend, or the follow-up effort of an author who you loved, it's hard. What if it doesn't live up to your hopes?
Fortunately Stone Crossings was just as I had hoped it would be. My review has been delayed these many months because it's one of those books that doesn't set itself up for a chatty review. It was also a book that I wanted to take my time on. No more than a chapter a day seemed about right.
But it's been on my mind. In fact I see stones and I think of her and the journey she shares in her book–a spiritual memoir of sorts. I took this one on a hike last week as her work (and her photos) struck me: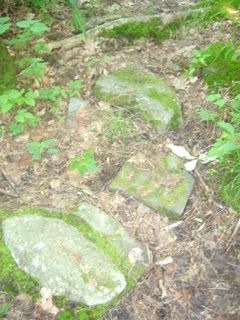 Barkat's journey begins in her childhood. In reading her explorations, we can all vicariously wonder, "How did my early experiences contribute towards me becoming myself." It's also a tale of forgiveness. Readers will learn from her own tough journey down this path.
The writing is beautiful, the lessons are relevant, and the wisdom is felt.
Managing Editor Jennifer Donovan is a contributing editor at 5 Minutes for Mom. She has been blogging at Snapshot for over two years. You'll almost always find her holding either a book, a fork, a child's hand, her laptop, or some combination therein.