I would not claim to be "green," but I'm greener than I was, and I'm interested in learning about changes I can make to get greener. That's one reason I love the new 5 Minutes for Going Green site. Each week I get information on small changes I should be and could be making to reduce my carbon footprint.
One area that I have mastered is taking my own canvas bags to the grocery store. In addition to the fact that they are reusable and not plastic, they hold more and they are sturdier than those plastic bags they go through by the hundreds (thousands?) at the grocery store.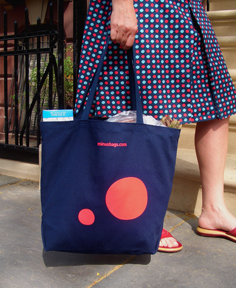 I've recently expanded my use of these canvas bags. They are perfect for loading up items for a picnic at the park (which is more environmentally friendly than stopping at McDonald's). I love to use them when I'm packing up stuff for a weekend away, and in addition to grocery shopping, I use my totes each week by taking them to the library.
I am the mother of two little bookworms, and of course I love to read too, so our trips to the library result in more than one book a piece. My four-year-old usually comes home with a Thomas DVD, a Thomas book or two, and maybe another book if I've been able to convince him to look beyond the foot of space devoted to the Reverend W. Auden's collected works. My nine-year-old always gets at least three or four books and finishes them in time to return them the following week. Since I am up to my ears in review copies, I stay away from fiction at the library, but I often bring home a (heavy) cookbook or two.
My minusbags canvas tote works perfectly for this. It doesn't have a store logo emblazoned on it, and it's not that thin canvas that I've acquired for 99 cents.
It got me to thinking that using the library is a very green practice:
Libraries use and reuse resources—one book purchased by the library will be enjoyed by many people, as opposed to buying my own copy of a book and reading it and then letting it take up space on my bookshelf.
Using the library saves fuel—my library is much closer to me than any bookstore. Even if I shop online (which is honestly how I buy 95% of my books), those books I order are shrink-wrapped, packed and shipped across country resulting in used fuel.
Using the library supports the community – even though I'm not technically consuming, staying local is good for the local economy.
Would you like to win one of two gorgeous minusbags totes? Leave a comment here telling me your favorite part of using the library. I'll draw two winners on August 20 (The giveaway is now closed. Thanks for all your great comments about libraries).
Managing Editor Jennifer Donovan is a contributing editor at 5 Minutes for Mom. She has been blogging at Snapshot for over two years. You'll almost always find her holding either a book, a fork, a child's hand, her laptop, or some combination therein.