From Dawn:
Now that the kids will soon be getting back into the swing of school life, a whole new year is ahead of them, full of fresh experiences and increased educational expectations. As parents, we want to support our children's learning and provide materials that will interest our young Einsteins while simultaneously reinforcing their school lessons. That's where Play Bac Publishing comes in, offering a variety of educational books, including two series specific to elementary school curriculum.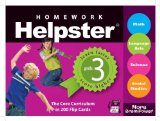 With their Homework Helpster series, children in grades 3, 4 and 5 can supplement their classroom curriculum in the areas of Language Arts, Math, Science and Social Studies. With a stand-up, flip-book format, the book is easy to prop up on the kitchen table while your elementary school student attacks his homework pile. My own son referred to the third grade edition a few times last year when he needed reminders about certain concepts, and I found the content to be quite consistent with our own school's third grade curriculum. With an inviting layout chock full of colorful graphics and vivid photographs, children are attracted to this valuable resource without even realizing the educational support they're receiving!
From Jennifer:
I also loved the 5th-grade flipbook Homework Helpster once I figured out how it was supposed to work. At first, I thought it was meant to be a supplemental sort of thing, but as a reference (either for curious kids or clueless parents), it lives up to its name of helping.
The Grade 1 Vocabulary Power that I previewed is even more exciting to me. It was designed to help boost kids' vocabulary by compiling a list of 200 words as found in popular children's literature.
My son Kyle decided to learn to read by osmosis (Seriously. Okay, some might call it via the whole language approach. All I know is that this kid is reading without any real formal instruction, other than from Super Why which I'm actually more and more convinced was integral in this development. But I digress). Since he enjoys reading and learning new words, and seems to learn by seeing a word in context, this little flip book has been fun for us. As you can see by looking at the picture, each side of the flipbook features a word. The word is illustrated, the word is used in a sentence, and the word is defined. In addition to that, there's a context question at the bottom to insure that the child understands his new vocabulary word. Kyle enjoys looking at a few of these at a time.
I think that it would work equally well on a reluctant reader, perhaps keeping it in the kitchen and looking at one word for each mealtime.
One reader (U.S. only) will receive one Homework Helpster and one Vocabulary Power of their choice. To enter to win, leave a comment letting us know which levels of each you'd like to receive if you win.

This is part of the 2009 Back-to-School Giveaway. We'd love it if you helped spread the word!
Leave a comment on this post as your entry, per the instructions above.
This contest is open to U.S. residents only. One entry per person.
New giveaways will be posted through August 26. Winners will be announced August 31.
Check out the list of the other giveaways in the 2009 Back-to-School Giveaway at the main post.