When I found out that Julie and Julia was being made into a movie, starring such powerhouse actors as Meryl Streep, Stanley Tucci, and Amy Adams, with a screenplay by Nora Ephron, I was beyond excited. Even though my life as a busy wife and mom does not allow me for many opportunities to see movies in the theater, I knew that I was going to see this. When my husband and my plans for a babysitter fell through, I decided to sneak off on Saturday by myself.
Sitting the darkened theater, my anticipation was palpable. My heart was beating, and I was ready to see this remarkable story on screen (Read my full review of one of the sources of the film, Julia Child's My Life in France over at my blog today, and a mention of why I enjoyed Julia Powell's project memoir of the same name as the film HERE).
As soon as the movie started, a smile crept across my face, and it didn't fade for much of the film. I loved this movie. In fact — let me just go ahead and save the Academy some trouble and issue nominations for Meryl Streep for best actress as Julia Child, Nora Ephron for best adapted screenplay, and perhaps Stanely Tucci for best supporting actor in his role as the understated but uber-supportive Paul Child.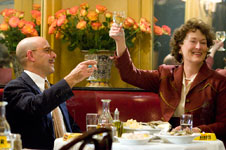 As for book-to-screen integrity, I just finished reading Julia Child's My Life in France (breaking my 6-month lag rule), and found that Ephron's screenplay was not only accurate, but conveyed the spirit of Julia Child as well — one of complete joie de vivre. As far as Julie Powell's story of cooking and blogging her way through Julia Child's Mastering the Art of French Cooking, it wasn't nearly as complete. However, the film worked, and I wouldn't have changed a thing.
It's been several years since I read Julie and Julia, so it's not as fresh in my memory (following my cardinal rule), but the movie doesn't quite convey the drama of actually finishing the project that was an integral part of the book. Powell suffered through missteps and misgivings throughout her year-long project. Also, if you are a foodie, reading the book will give you more detail about the cooking.
All that aside, whether you've read either book or not, see this movie. Whether or not you are a fan of Julia Child (I wasn't until I read her memoir), see this movie. If you like to cook, or hate to cook, like movies or hate them — see this movie. It's inspirational, fun, and what the movie-going experience is all about.
Take a sneak peak at the Julie and Julia website.
If we put movies on our 5 Star Reads list, this would be there.

Jennifer Donovan doesn't get to the movies as often as she'd like. Though she loves books, she has to admit that there is something about watching a story unfold on screen. She also blogs at Snapshot.