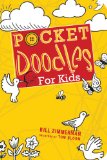 I cannot draw a straight line without a ruler. My daughter CJ, almost 11, has a real talent for drawing that I've tried to encourage and she rarely uses. Which is exactly why I was excited about the opportunity to review Pocket Doodles for Kids. Filled with all sorts of neat projects, this book should put an end to boredom in the car, restaurant, doctor's office, or wherever else kids might get restless.
Each page has a prompt of some sort, such as "Draw or paste a picture of your favorite place in the whole world" and "These are identical twins – except for one difference" and "Make up a story to go with this drawing". Your child will definitely exercise his/her creativity and have fun, too.
As part of our Back to School Giveaway, we have a copy of Pocket Doodles for Kids to offer to one lucky commenter. Who knows, it may even bring out the kid in you!
Melissa has been captivated by books for as long as she can remember. She resides in Virginia and blogs at Breath of Life.

This is part of the 2009 Back-to-School Giveaway. We'd love it if you helped spread the word!
Leave a comment on this post as your entry.
This giveaway is open to U.S. residents. One entry per person.
New giveaways will be posted through August 26. Winners will be announced August 31.
Check out the list of the other giveaways in the 2009 Back-to-School Giveaway at the main post.