I'm a calendar gal. I have a Palm Pilot that mostly functions as a dust collector on my desk. I never quite got the hang of the stylus, so making entries takes too long. I like to see things in writing. So when Jennifer asked our team who would be interested in reviewing a calendar from Peter Pauper Press, I said yes as fast as I could.
The folks at Peter Pauper were so nice, they even let me pick out my own pattern! I requested Acadian Tapestry, shown here.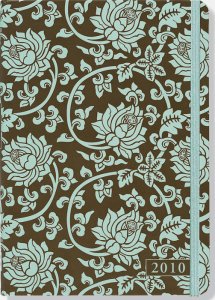 I like this calendar for several reasons:
*It's pretty
*It fits in my purse
*It has a hard back
*It runs from September 2009 – December 2010
*It has a few convenient pages for notes & addresses
*It's in a weekly format, so I have plenty of room to write (monthly formats don't give enough room, and daily formats are too bulky)
*Each week includes a calendar for the current and previous month
I also received the matching compact journal. I've been mulling how I can make the best use of this gorgeous thing. It fits in my purse, so it would be a terrific "To Do" or "Grocery" notebook. The pages are large enough to use as a journal, recipe book, or just about anything else you can think of.
As part of our Back to School Giveaway, we have a calendar & journal set to give to one lucky commenter. Visit Peter Pauper Press to select your pattern. I'm already debating which I'll pick for 2011!
Melissa has been captivated by books for as long as she can remember. She resides in Virginia and blogs at Breath of Life.

This is part of the 2009 Back-to-School Giveaway. We'd love it if you helped spread the word!
Leave a comment on this post as your entry.
This giveaway is open to U.S. residents. One entry per person.
New giveaways will be posted through August 26. Winners will be announced August 31.
Check out the list of the other giveaways in the 2009 Back-to-School Giveaway at the main post.