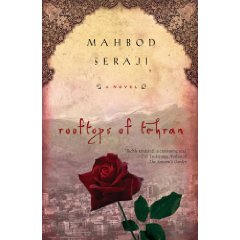 This was a lovely lovely book.
Seventeen-year old Pasha and his best friend Ahmed spend the summer exploring life and love and the unfairness of the totalitarian regime of 1973 Iran. The characterization of a young man's journey from his late teens into adulthood is perfect — first loves, first stands on issues, hellos, goodbyes.
The language is beautiful, the story is strong, the characters are dear, and it's suspenseful, so it pulled me right along. Parts of the story are told in flashbacks, so the reader is brought closer and closer to the crisis event, and you can't help but keep asking, "What happened to change the course of events in these characters' lives?"
When that crisis is revealed, the end of the novel continues in a suspenseful vein, as I yearned to find out what is going to happen to the characters that I had come to love.
An interesting section at the end has an interview with the author as well as a reader's guide for discussion and then recommended reading, including sections for history and culture and memoirs/novels/poetry. Recommended titles include Funny in Farsi (linked to the review that Dawn did here a few months ago), as well as the House of Sand and Fog and Reading Lolita in Tehran: A Memoir in Books, both of which have been on my radar a while. In fact, I think I'm going to load up the House of Sand and Fog on my Kindle for my summer travels.
So, I'd say that if you've read, and enjoyed, any of those titles, you'd like this one too. The comparisons to The Kite Runner are also inevitable — although they are set in different countries, they both deal with events that precipitate a coming of age, set in the backdrop of a totalitarian regime. The Kite Runner is a wonderful book, but I think that Rooftops of Tehran has more heart, more range (since I laughed aloud a time or two in addition to being touched throughout), and is overall a better story.
A wonderful literary page-turner — my favorite kind of read.
Read more in Mahbod Seraji's guest post "On Reading."
This review is linked to Semicolon's Saturday Review of Books. Link up any of your own reviews that you've published this week, or simply browse around the reviews that others around the blogosphere have posted.
Managing Editor Jennifer Donovan seems to be stuck in the middle-east, at least in the pages, because she loves books with an interesting cultural setting. Read about her life in Connecticut (interesting to a transplanted Texan, at least!) at her blog Snapshot.