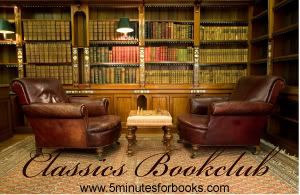 I am so excited about our next Bookclub selection,
Rebecca
by Daphne du Maurier! It's one of my all time favorite novels and if you haven't been reading, I hope you will grab a copy from the library or bookstore and join in—I think you'll be glad you did! Mr. Linky will be up on August 4, along with my own thoughts on this classic novel, so be sure to come back then and link up your review post! Of course, our bookclub is not limited to bloggers; the comments will be open for non bloggers (and bloggers alike) to share their opinions there.
As is our custom here at 5 Minutes for Books, we like to offer a teaser of sorts, a few questions to get you thinking about your own review of the book. As always, these are just suggestions; by no means will we be checking to make sure you've answered them all!
A few things I've pondered in my reading of Rebecca:
Why do you think the heroine remains nameless? (did you notice she was never referred to by name?) Don't you find it interesting that the novel is titled "Rebecca" yet our narrator is nameless? Why the contrast, do you think? Do you see her anonymity as indicative of some deeper meaning?

Did you like Maxim at first? Did you trust him? Why do you think the narrator was so unsure of his affection? Did you share her doubt? What gave her confidence in his love–or did she remain insecure? Did you alter your opinion of either Maxim or the narrator in the course of the novel? What made you change your mind?

Rebecca has one of the more famous opening lines in literature. How do the opening lines set the tone of the novel?

How would you classify Rebecca? Love story? Ghost story? Tragedy? Mystery? It's been called one of the greatest gothic romances; would you agree?

Without giving too much away (hate spoilers), were you satisfied with the ending? Why or why not?
Remember to come back August 4 and let us know what you thought! I can't wait to read your reviews; I hope you love Rebecca as I much I do!
On October 6, join us for a contemporary pick — Rooftops of Tehran. You can check out my review to see why I loved this book.
September 1 we'll be discussing The Guernsey Literary and Potato Peel Society
Wife and mother, Bible teacher and blogger, Lisa loves Jesus, coffee, dark chocolate and, of course, books. Read more of her reflections at Lisa writes….