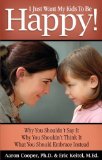 I have to admit to being a parenting book junkie– I absolutely love reading them. That doesn't mean to say that I follow everything I read word for word, but I do like to add to my parenting repertoire, and I have found some worthy suggestions in my collection. Aaron Cooper and Eric Keitel have added an insightful and thought-provoking book to my set with I Just Want My Kids to be Happy!
The subtitle to this book is important: Why You Shouldn't Say It, Why You Shouldn't Think It, and What You Should Embrace Instead. No, the authors aren't discounting the good intentions behind a parents' saying that they wish happiness for their children, but they are examining the effects of many parents' actions when they make choices based primarily on keeping their children happy in the moment. The book is presented in three parts, focusing on the dilemma created when the focus is always on immediate happiness, defining and discussing the roots of authentic happiness, and finally suggesting ways to help our children develop their own authentic happiness. Many of the bits of wisdom in this book aren't new– emphasizing the importance of family meal times, encouraging children to persevere through challenges, recognizing the need for character building experiences– yet when presented all together, these points truly pull together into one cohesive picture of important parenting skills and choices.
As the book comes to an end, the authors included a final chapter that includes a paragraph synopsis of the major points of each chapter– a 26 point suggestion guide that will serve as a good starting point for getting my husband to read a parenting book that I've loved! I Just Want My Kids to be Happy! has found a well-deserved spot on my parenting books shelf, and I predict will be dog-eared time and time again throughout the years.
When she's not reading how to be a better parent, Dawn is working on the practical skills portion of the job. Oh, and blogging too, at my thoughts exactly.