I can review The Guernsey Literary and Potato Peel Pie Society
by Mary Ann Shaffer and Annie Barrows in one word: enchanting. But, since that doesn't make for a good review (and Jennifer just may revoke my team member status), I can't very well stop there.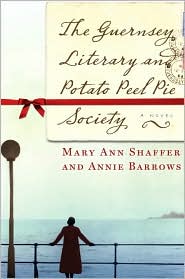 I had heard this was a "hot" book. The unusual title intrigued me, and since I've never read a book of letters, I thought I'd give it a whirl. I'm so glad I did!
The story begins in post WW II England. Author Juliet Ashton is seeking inspiration for her next book, when she receives a letter from Dawsey Adams, a pig farmer on the British island of Guernsey. Dawsey has come into possession of a book Juliet once owned and writes her to ask where he can purchase other works by the author. His tale of how he came to find the author, and the formation of the Guernsey Literary and Potato Peel Pie Society capture Juliet's attention. The Society was created during the Nazi occupation of Guernsey, as an alibi for violation of curfew. It soon became a lifeline for its members, who discovered a true love of reading.
Interested in this odd group of people, Juliet begins corresponding with the members. They tell her about the horrific conditions of the occupation, how their lives were irreversibly affected. As Juliet's attachment to each individual grows, she wonders if Guernsey may be the topic for her next book. She travels to the island to meet her pen pals, and discovers a life she never knew existed.
I could hardly put this book down. The characters come to life through their letters. Dawsey, Eben, and Amelia are near to my heart. Isola made me laugh out loud, as did Juliet's editor and friend, Sidney. I enjoyed watching the story unfold and the relationships build. The authors did an outstanding job of weaving the story together through the various viewpoints to create a delightful and touching read.
Melissa has been captivated by books for as long as she can remember. She resides in Virginia at at Breath of Life.