Check out our NEW (yes, new again) schedule for Bookclub. Because we saw The Guernsey Literary and Potato Peel Society on so many lists, we are going to add it in as our September pick. So join us on September 1 to discuss it!!

October 6: Rooftops of Tehran

November 3: Any work by Louisa May Alcott

December and January: off months — eat some extra holiday pie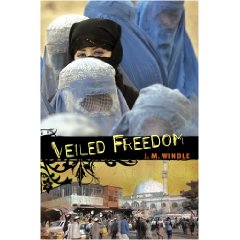 Veiled Freedom
is a rather intense story which is set in Afghanistan. Reading it almost feels like I'm reading the news. Interestingly enough, author Jeanette Windle grew up as an "MK" (missionary kid) in the mountains and jungles of Columbia. She has traveled the world a bit, including poking around in Afghanistan so the book is a flavorful read. Of course, I've never been so it's hard to say but in reading the story, I can almost hear the sounds and see the sights of the place. Like I said, it feels like I'm watching a news reel or reading a newspaper article about the country.
This story involves a Special Forces veteran by the name of Steve Wilson, a relief worker named Amy Mallory and her translator, Jamil. Naturally there is a love story involved, but the majority of the focus on this particular books is on the people of this country. Amy Mallory is the vessel Windle uses to introduce the reader to the people of Afghanistan and to share her own love of their culture with us.
The story is intense and interesting. The prologue of the book announces that the story begins in Kabul post 9/11. Winkle wanted to write a story that was set in modern day Afghanistan that would feel relevant to the reader of today and she did exactly that. Winkle is a Christian and this is a Christian fiction book but I found it to be well-written and engaging. The main protagonist, Amy Mallory, comes over to begin a project with a particular organization that is trying to get itself out of a jam. Her job is to create a functional and profitable program out of this organization. In the process of doing so she comes to love the people she is serving and that forms the basis for this story. To show a bit of contrast, Steve is the epitome of disillusionment. He is very aware of the dangers that exist and finds it hard to believe in and/or connect with the people because of the violence and living conditions within the country.
If you like stories about the Middle East, Veiled Freedom
is an interesting and intriguing book to pick up. Just released in June 2009, this is a fresh story about an established country and culture that makes for a compelling read.
Carrie comes by her book obsession honestly, having descended from a long line of bibliophiles. She blogs about books regularly at Reading to Know.