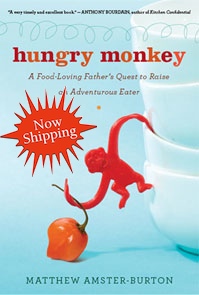 Hungry Monkey: A Food-Loving Father's Quest to Raise an Adventurous Eater by Matthew Amster-Burton is many things — entertaining, mouth-watering, quirky, a bit self-important (as I'm convinced all memoirs are) — but advice for parents? Not so much.
Amster-Burton is a foodie. He's not just a foodie, he's a professional food writer/restaurant reviewer. He's the fulltime caregiver for his preschooler Iris, the "hungry monkey" at issue, balancing this freelance work with his parental responsibilities.
If you're a foodie, and can stomach (no pun intended) a little parental bragging (probably no worse than you come across in your typical mom blog or phone call with your first-time parent friend or relation), then I think that you'll enjoy Hungry Monkey. However, if you're expecting to find suggestions on how to convince your young child that he should eat mushrooms, then you're going to be disappointed.
The conclusion that he makes is that kids will eat what they want to eat. Yes, offering variety — persistently — is good. Yes, get them involved in helping you make the food. But no, don't expect that just because you and your spouse love hot chilies that your progeny will let you indulge your spicy palate at the family table.
But, if you enjoy food and cooking, you will enjoy reading about his culinary explorations and how the addition of a child changed it somewhat, but not completely. So, in that, it's aptly titled. It is a foodie's quest, and I would say that Iris is more adventurous than most children and many adults.
Each chapter has some sort of a theme, and there are a few recipes at the end of each chapter. They are gourmet, but not daunting, and there are several that I want to try, including his simple pad thai, bibimbap, shrimp and grits, and I have to say that he even made me curious about trying brussels sprouts.
Find out more about the author and the book at the Hungry Monkey website. You can even read the first three chapters.
If you don't find a book in Managing Editor Jennifer Donovan's hands, there is likely a fork in them. Otherwise you'll find her typing away writing reviews here or blog posts for Snapshot, where she chronicles her love of many things, including food and books.
This review and others from this week are linked to Semicolon's Saturday Review of Books. Link up your own, or see what others are reviewing across the blogosphere.