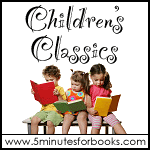 Welcome to the first Children's Classics' Carnival of 2009. We are looking forward to hearing about some of your favorite children's books from your childhood days or perhaps your thoughts on some of your children's favorite books.
Since it is the first of the year, we thought we'd re-describe what this carnival is all about. As Jennifer said when we first kicked this thing off:
What's considered a classic as far as children's literature goes? Well, that's up for interpretation, since children's books go in and out of print more than adult literature that is decades old. But a classic work, regardless of target age, should be a book people have heard of. You may not have read it, but the name would probably spark some sort of "a-ha."
This month we invite you to share a title of your choosing. During the months of February and March we would like to focus on particular child authors.
In the month of February we will be focusing on books by A.A. Milne. You can select the book, books or specific characters that you would like to talk and share about with the group.
In the month of March we will do the same with books by Beatrix Potter.
During the month of April we would like to have a theme that is suggested by one of our readers. Think over what books or authors or categories of children's literature that you might like to have everyone discuss. Who knows! We might pick YOUR suggestion and promote it. Let us hear your thoughts of where you'd like to see this carnival go during April. We look forward to hearing your ideas!
And now without further ado, please link up to your direct blog post describing your favorite children's classic here:
Carrie comes by her book obsession honestly, having descended from a long line of bibliophiles. She blogs about books regularly at Reading to Know.