The way I see it, memoirs provide a unique reading opportunity- a hybrid of sorts between nonfiction and fiction. There on the pages are the facts (or at least the subjective memories) of a person's life, but the presentation is so often that of little stories pieced together, chapter by chapter, to form a bigger picture of one individual's experiences. I enjoy stepping into the memories of others, and I most often appreciate when the storytelling is engaging while the humor factor is high. So it is with Firoozeh Dumas' two memoirs, Funny in Farsi: A Memoir of Growing Up Iranian in America and Laughing Without an Accent: Adventures of an Iranian American at Home and Abroad.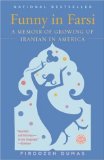 In Dumas' first memoir, published in 2003, she introduces us to her childhood memories, from both Iran and the United States. While she made me laugh describing the idiosyncrasies of the English language for new learners (picture a seven year old accompanying her mother to the hardware store in search of a cleaner called 'elbow grease'), the best moments of this memoir were her endearing, yet not overly sentimental, tales of the lessons her father imparted. Among my favorites, she describes her discovery at age six that the ham her father blissfully enjoys is actually forbidden in Islam, not previously knowing this in her secular Muslim family. When she confronts her father, he responds to her by emphasizing that what defines a good person is not as simple as one's food choices, but what is in his heart. His generous and kind spirit sits side by side the author's often wry sense of humor throughout this book.
Dumas picks the story back up in her second memoir, released in 2008, this time sharing stories of her college experience at UC Berkeley, meeting her French husband and the transition to motherhood while still living in a quite literal multicultural world. Again, her writing appeals to me for its inherent sense of humor that never disrespects even when gently poking fun at her family life. Her description of her first year of motherhood rose to the top of these stories for me– wryly funny and brutally honest, as usual.
If you're in the mood for a quick read that engages your heart and your laughter, search no more. Firoozeh Dumas offers exactly that, with the voice of a good friend telling stories over a cup of hot tea.
Dawn needs to build more bookshelves. She can be found blogging to the sound of crickets chirping at my thoughts exactly.