Released posthumously in 2008 The Joys of Love is Madeleine L'Engle's most recently published work. It's not one of those books that you read and think, "Well that's why it was never released." I think that it was not published forty years ago for perhaps the same reason that it might not sell well today.
The Joys of Love is a coming of age young adult novel set in the 1940's and first conceived as a short story in 1948, so it's quite different from the Young Adult offerings of this decade. When she tried to sell it decades ago, the agents/publishers weren't quite sure how to classify it then either.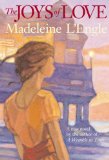 The story parallels L'Engle's own young adult years that she spent in the theater, so it's a must-read for fans of L'Engle's writings and philosophy. However since the young twenty-somethings of that era probably have more in common with a fourteen-year-old today, the book might span a wider age range than many YA offerings — even if the respect for parental authority and for good clean fun might seem a bit antiquated.
The only nod to sex is when one character asks if two others are sleeping together (and the answer was, "I don't know. I haven't thought about it."). The material would be appropriate for any teen, but the subject matter would be best appreciated by ages sixteen on up. It would be especially interesting for anyone with a professional or avocational interest in the theater or the arts.
Twenty-one year old Elizabeth Jerrold is in that typical post-college decision-making stage. She earned a sensible degree as her guardian aunt desired, but now she's gotten on as an apprentice in a summer theater on the Jersey coast to see if she has a hope of making a living doing what she loves — acting.
Alongside the choices she is making about her future, there are inevitably choices concerning love. This plotline is expertly handled by L'Engle. Will she choose Kurt, the older actor who Elizabeth adores but whose sincerity is somewhat doubtful? Or will her best friend Ben declare the love for her that is obvious to everyone? Will she see everyone as they really are? As in real life, the choices aren't always as easy as they seem.
As an adult reader, I loved it. It reminded me of that carefree young adult time when we're free to make selfish choices because they don't affect others, but in the process of making choices, we figure out who we are.
*********
I listened to this on audio courtesy of Macmillan Young Listeners. One of the highlights of the audiobook was the bonus interview at the end with L'Engle's granddaughter. The introduction by her other granddaughter Lena Roy was priceless (but I think that appears in the print version as well, but this is actually presented by Lena Roy herself). Lena and her sister first enjoyed the unpublished manuscript in 1978. It was their special book — just for them to share.
At first, I didn't think that the reading by Maggi-Meg Reed necessarily added anything to the story (it didn't detract either), but by the end I decided that her expressive yet understated reading of the novel was just right, and it became a part of my experience (listen to an excerpt).
Managing Editor Jennifer Donovan also blogs at Snapshot about life with her tween daughter and preschool son.
Save 50% for 3 months – Download and Listen to an Audiobook for only $7.49 today!


or

Audible 14 Day Free Trial – Download 2 Free Audio Books to your iPod!