Oh, I have such fantastic memories of the beginner chapter book series that I read as a child. The ability to follow one central cast of characters through adventure after adventure was such a thrill, as was collecting the paperback books to sit on my bedroom bookshelf, right there for me to read again and again. Be prepared to introduce a new star and her dear family to your own collection with Scholastic's new series, Ruby and the Booker Boys, by Derrick Barnes.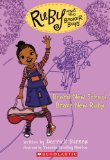 In the first book of the series, Brand-new School, Brave New Ruby, we meet Ruby Booker, one fabulously confident and boisterous girl who is fully prepared to step out from the shadows of her three older brothers as she begins third grade at their school. They are all well-known among their peers for their individual personalities and talents, but Ruby has her skills, too, and she is excited to share them.
There is no shortage of spunky young characters out there in book world, but I have to say that I found a smile on my face as I read through the first three books of this series. Ruby's positive attitude is refreshing, and her family's loving interactions are the perfect context for producing confident children. While this series would likely be viewed as most appropriate for young girls, my eight year old son asked to read them as well, and I could overhear him laughing aloud while reading, so the appeal of the character isn't necessarily limited by gender. Ruby Booker will find soon find herself sandwiched between the paperbacks of Ramona, Junie B., and Jack and Annie on our bookshelves!
Are you interested in owning the first three books of the Ruby and the Booker Boys series? Scholastic Books is giving away Brand-new School, Brave New Ruby; Trivia Queen, 3rd Grade Supreme;and Slumber Party Payback to three lucky readers (U.S. shipping addresses only).
Leave a comment here if you'd like to check out this delightful series. We'll post the winners on March 4.
Last week's winners are:
George Sarris' World's Greatest Stories: #6 Angela C.

All I Need is Jesus and a Good Pair of Jeans:
#12 Cathy Casper
#123 Cassandra
#37 Donna R.

If you didn't receive an email from me, please send your shipping info to 5minutesforbooksATgmailDOTcom.
Dawn needs to build more bookshelves. She can be found blogging to the sound of crickets chirping at my thoughts exactly.