I have a two year old and I know that the time is going to come when he starts asking me some of the tougher questions surrounding the Bible and Bible stories. I hope to be better equipped to answer such questions and am on the lookout for good resources to help answer those questions when the time comes. Tyndale Publishers have produced some helpful materials, beginning with Questions from Little Hearts
.
Questions from Little Hearts
reads like a regular story book. Each little section starts out from the child's point of view in which they ask questions like "What is God Like?" "Can He see me?" "Where does God live?" Each question is also answered in story fashion. At the end of each section of this book there are scripture references for you to decide whether you'd like to read aloud or just tuck away for later. This book hits on the topic of what God is like, how we pray, what is Heaven and where is it, and whether or not angels are real and what they look like. It's a handy little book and reads well.

Tyndale has also published Randy Alcorn's Heaven for Kids
which is a "spin off" of the same title for adults. This book focuses on the subject of Heaven and is better arranged and written for children 10 and up. Alcorn makes heavy use of C.S. Lewis' Narnia Chronicles when making references. Alcorn talks about how we should think about Heaven, and answers what it will be like and what we might be able to expect. He backs up all of his answers with scripture and makes it relevant for the younger reader. It's really very well done and I'm glad to have this resource.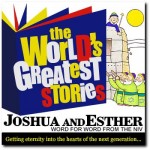 Lastly, a man named George W. Sarris has produced a set of dramatized stories of the Bible. Sarris brings to life The World's Greatest Stories through the spoken word, music and sound effects. He reads all of the parts, giving each character its own voice and personality. These stories are quite well done and I cannot recommend them more highly. Sarris takes the stories straight from scripture and performs them tastefully, both in CD format as well as also giving live performances. You can learn more about these dramatized stories by visiting his website, World's Greatest Stories. There are samples of this work on the site. He has performed a number of the more popular Bible stories. (You can see exactly which stories are available on CD by clicking here.) The latest CD "Defeating Giants" was the recipient of a 2009 Storytelling World Resource Award honor in the category of Storytelling Recordings.
Sarris has generously volunteered to giveaway one copy of his six volume set of performances to one of you!
To win, leave a comment below and be sure to specify whether you'd prefer the NIV or KJV version. We'll post the winner on 2/22.
Regardless of whether or not you win though, I'd encourage you to check out his site because he really has done some amazing work that captures the imagination and makes the stories live.
For additional resources (and a different giveaway!) on teaching scripture to children, visit Reading to Know.
Carrie comes by her book obsession honestly, having descended from a long line of bibliophiles. She blogs about books regularly at Reading to Know.