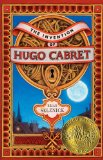 Seeing that everyone I know who has a blog and an even mild interest in children's books has raved about Brian Selznick's The Invention of Hugo Cabret, I felt more than a little peer pressure to look for this book at the library. I have every reason to be interested- Selznick is an accomplished author/illustrator and I have an 8 year old son who has been reading middle grade novels for some time now. But as soon as I opened the pages of this thick book, I knew those wouldn't be the reasons that I'd be glued to the couch for a while. Without a doubt, this is a one of a kind creation, more than deserving of the Caldecott Medal it received last year.
The combination of words and pictures working together to tell a story makes for an intriguing read, and the intended black and white movie-like quality is quite apparent. The illustrations cannot be described adequately– they pop off the paper in their intricate details, as well as for the feelings they convey. But make no mistake, this is not simply an illustrated read, or even a graphic novel. This is something completely new. The illustrations do not simply portray the printed words, but they actually pick up where the words leave off and propel the story along. The story of a boy in 1930's Paris in a pretty atypical living situation draws the reader in quickly, and there is a magical feeling that the characters are actually moving around among these pages. I have to admit that I was as excited as my 8 year old to find out the answers to the many questions this story hinges upon, and the ending did not disappoint. The Invention of Hugo Cabret has provoked a ton of positive press, and I'd wager it will live a long life on the list of beloved books of older children for quite a long time.
We are pleased to add this book to our list of 5 Star Reads.
Dawn is most likely holding a book in her hands this very moment. She can be found blogging away at my thoughts exactly.