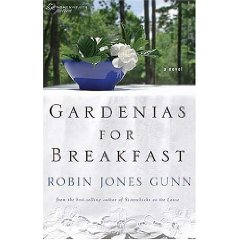 Gardenias for Breakfast
was recommended to me by an in-town friend and so I thought I'd give it a go! Published by Thomas Nelson, this is a slow-and-ease read. A comfort read. A go-to-Starbucks-sit-down-for-an-hour-and-relax read. In other words, it was rather a nice escape from a larger, heftier book that I was in the middle of! Gardenias for Breakfast
made for a nice little break!
This book tells the story of Abby and her daughter Hannah who are offered a chance to travel across the United States (from Washington to Louisiana) by car. Abby, her husband, and their two children live in Hawaii. However, Abby grew up on the mainland and misses it. When her brother offers her a full paid vacation, she snaps it up and takes her daughter to the mainland. Abby's intent is to show Hannah America, as well as to reconnect with Abby's grandmother (Grand Lady).
As far as the character of Abby is concerned, this is a story of pain, loss, heartache and, ultimately, healing. Hannah's role in the book is to provide the coming-of-age figure. She's a tween whose body is changing and who is also starting to recognize the relational issues that exist in her family. Through Hannah's questions and insights, Abby is pushed towards ultimate inner healing.
I thought author Robin Jones Gunn (who also authored Sisterchicks) did a pretty good job with this book. As Abby and Hannah travel around the country, Gunn describes quirks and aspects of each state they were driving through. At one point, Abby decides that they need to stop for gas. This part of the road trip takes place in Oregon (where I live) and where you are not allowed to pump your own gas. (It's true! Attendants do it for you. It's the law.) I was wondering if Gunn was going to mention this and she did. As Gunn had Abby and Hannah driving through California she mentions Bakersfield which is where certain friends and family of ours live. She just did a really good job of describing the scenery and eccentricities that make up America. I enjoyed that aspect of the book very much.
On the whole I'd recommend this as being a calm and relaxing read. I needed that.
Carrie comes by her book obsession honestly, having descended from a long line of bibliophiles. She blogs about books regularly at Reading to Know.