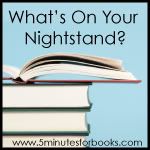 The third Tuesday, Kids' Picks, is my favorite carnival here at 5 Minutes for Books, but based on participation and enthusiastic comments, this one at the end of the month is yours!
So, you know how it goes:
You can give us a peek at your nightstand — your "to be read" for the month — either in picture form or text.
You can also give us some quick reviews of books you read this month.
If you want to tell us the hows and the whys of how that book made it to your nightstand, that's always fun, too.
Then write a post on your own blog, and leave the link directly to the post below. We'd appreciate it if you'd like to us, too.
Finally — visit some of the other participants and see what's on their nightstands!
Also, please remember that we have a special quarterly fifth carnival called "I Read It!" where you can link up a review (or reviews) that you have published this quarter to books that you have read at our recommendation. That will take place March 31.
And next week we'll be discussing Les Miserables in the Classics Bookclub. You can read the preview questions HERE. If you've read it recently and want to join in, there will be a Mr. Linky post up here on March 3 so you can link up your own blog post and join in the conversation.

If you love books and reading, please sign up for our feed so you won't miss any of our posts or giveaways (we give away at least one book each week).