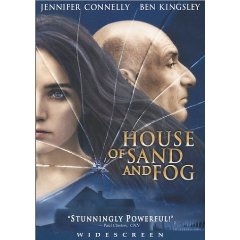 Years ago I watched the movie The House of Sand and Fog on DVD. It was such an intense movie, painting the ugly side of human nature or perhaps the human side of human nature: self-preservation and protection, selfishness, stubbornness, pride, deceit.
When the movie ended, I just sat there, not knowing quite how to process what I had seen. Jennifer Connelly and Ben Kingsley were fabulous. They did not overact at all, which is sometimes difficult in such a dramatic movie.
I didn't really know that it was a book (or maybe I knew but did not care), until I read The Moon in the Mango Tree by Pamela Binnings Ewen about a year ago. The author's biography mentioned that she was related to Andre Dubus III, the author of The House of Sand and Fog, and from that time on, I'd been curious to read something by this man.
When I reviewed Rooftops of Tehran (join us for our bookclub discussing this title on October 6), I mentioned that the author had given some suggested reading about the Iranian-American experience in America, and that The House of Sand and Fog was on his list. Since I'd been curious about this book, and since Mahbod Seraji had done such a good job of painting life in 1970's Tehran, I took his recommendation to heart, and finally read the book.
The book was wonderful. Knowing how the story resolved from the movie, I read it carefully and cautiously, watching to see what would happen. The book was different from the movie (of course!), but very true to story's theme.
Since it had been years since I had seen the movie, I didn't remember details, I watched it again after reading the book. It was no less "enjoyable" the second time around, and even flaunting my rule of waiting at least 6 months before viewing a screen adaptation of a novel I've read.
I put "enjoyable" in quotes, because this movie is good — very good — but it's not a laugh riot. It's very serious as people make choices borne from the deperation of hopelessness. So yes, it's heavy. But if you aren't afraid of a real thought-provoking drama, I recommend this book or movie (The movie is rated R, probably because of the mature grim theme as well as some infrequent use of strong language, although it's nothing compared to the language in some other movies, and I think that the book content is actually more R-rated because of quite a few sexual situations).

Jennifer Donovan doesn't get to the movies as often as she'd like. Though she loves books, she has to admit that there is something about watching a story unfold on screen. She also blogs at Snapshot.