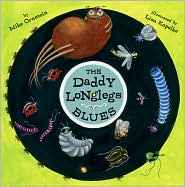 It's been well established on here that I am picture book fan (junkie?), and nothing seems better to me than when an author creates a book that engages children while also surreptitiously educating them in the process. With Mike Ornstein's new release, The Daddy Longlegs Blues, a whimsical world of music playing insects has been created, resulting in a children's book unique in many ways.
As the type of mom who's more likely to call her children over to inspect interesting insects than to shoo them away, I found the cover immediately appealing– so many types of different bugs hanging out on an actual album of yore. Too cool. Inside, I found a story that has an inherent rhythm and a beat that is unmistakable, just inviting an adult to read it aloud to fellow bug loving children. (Thankfully, I have a few of those around these parts!) In addition to the main character, Daddy Longlegs himself, the book is crawling with bugs of all sorts, strumming and humming away in this blues-infested story. (Sorry, I simply couldn't resist.)
I was pleasantly surprised by the wealth of information that is to be had throughout the story, and especially in the end notes and glossary of terms. While I may know a thing or two about Daddy Longlegs (neither a spider nor an insect, and also known as harvestmen, for just a few facts), I had virtually zero experience with the Blues, and I now feel just a eensy-weensy bit more hip after hanging with this eight-legged scatter. I wholeheartedly recommend The Daddy Longlegs Blues, for children and their grownups who enjoy a rhythmic romp for their story time experience. You dig?
Dawn is known as a mom, a reader, and a horrible-pun-dropper. More groan-inducing attempts at humor can be found at her blog, my thoughts exactly.