As I recall, I discovered Feeling For Bones through Amazon's "Customers Who Bought This Item Also Bought" feature. The title intrigued me. I read the summary and was interested enough to request my library to purchase the book.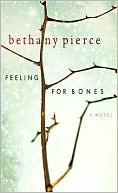 It's a compelling yet alarming read from the opening paragraph:
at the age of sixteen, I suffered recurring nightmares. I was running as hard as I could while my destination on the horizon receded to a pinpoint and vanished like the white pop of an old television winking out. Awake, I lay in a trance at the bottom of a pool, suffocating beneath an invisible, silent weight: people's voices reached my ears across a great distance, and the reflection of my body was always before me, wavering in myriad and grotesque distortions.
Olivia's dad has been forced from his pastorate and the family must leave their home. For Olivia, the ensuing events only confirm that God is distant and doesn't care. Her best friend, Mollie, is unwittingly the object of Olivia's envy and fear. She spends her days mentally calculating where to place the food she's consumed in her food pyramid. Counting calories. Counting fat grams. Ignoring the hunger that's destroying her body. Olivia's parents are trapped by their own problems and inability to help her. They realize she's not eating much, but they have no idea how much not eating is actually consuming her.
Bethany Pierce has crafted a brilliant and eye-opening look into the mind of those suffering from eating disorders, including the role our society plays in fueling our dissatisfaction with our bodies and, ultimately, ourselves.
Melissa has been captivated by books for as long as she can remember. She resides in Virginia and blogs at Breath of Life.