Did you know that was National Work at Home week? Well, it was. Earlier this week I posted a review at 5 Minutes for Mom for a great picture book called My Mommy's on a Business Trip. It's a great book to help your child adapt to your business trips, whether frequent or occasional. If you click through that link by Sunday, you can enter to win a copy.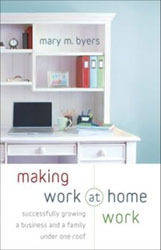 In addition to managing this website (which is more a hobby with perks than a job but does take time), over the last couple of years, I've been doing some part-time work from home, about five to ten hours per week. Reading Mary Byers book Making Work at Home Work has opened my eyes to a few things I've done right — and several I've done wrong.
It's full of practical tips and encouragement, along with advice from women who have made mistakes in the past. There are a lot of specific examples, using the most common businesses that women run from home, including direct-marketing, baking, piano lessons, and freelance writing.
Some of the great tips include
Don't discount what you do ("My work is just for the extras" — guilty!)
Get help with childcare if you need to.
Set goals for your work and make sure your spouse is in agreement.
Set up blocks of time for your work.

You can win one of several copies of Making Work at Home Work over at 5 Minutes for Mom by leaving a comment on that post before June 5.
(I've closed comments here to encourage you to leave comments on the posts for the two giveaways posted at 5 Minutes for Mom).

Managing Editor Jennifer Donovan thought she might be happy to never work again, after quitting her job even before Amanda was born. She's surprisingly enjyed using her time and talents wisely and earning a few bucks at home. She blogs at Snapshot.