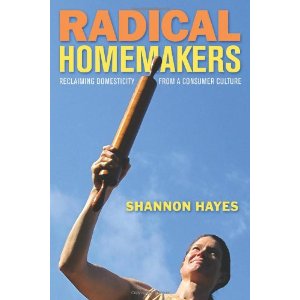 Awesome! Awesome! Awesome! Awesome!
What didn't I love and enjoy about Radical Homemakers
: Reclaiming Domesticity from a Consumer Culture!?! This book was penned from my heart and I didn't even know it! I was pulled into this book on reclaiming the art of homemaking from the get-go:
"Ordinarily a calm public speaker, my hands shook when I stood in September of 2007 before an audeince of 600 professional registered dieticians, many of whom were women. I had a painful message to deliver, one that I considered leaving out every time I rehearsed my speech. Eating local, organic, sustainably raised, nutrient-dense food was possible for every American, not just for wealthy gourmets or self-reliant organic farmers. But to do it, we needed to bring back the homemaker." (Introduction, page 12-13)
Author Shannon Hayes is here to argue that the problem with America's physical and emotional health is that the home lacks stability. As a culture, we Americans want to work overtime, spend more time out of the house pursuing our goals, and are running life on a treadmill that never steps. Two income homes are expected and have become the norm instead of the exception. Fast-food has taken over our bodies, causing obesity and the rise of disease. What Hayes suggests is that we return to a life of simplicity – where we don't feel the need to keep up with the consuming public. She argues that we don't need two cars, larger homes, more clothes, convenient and processed foods. Rather, her argument in this book is that we need homemakers who can maintain stability and peace in the home. We need someone at home to think about preparing foods and be given the time to cook nutritional meals. Homemade toys? Clothes? Riding bikes instead of driving cars, without the pressure of having to watch the clock? This is the world Hayes suggests we return to in order to gain back our health and, indeed, our lives!
I could not agree more.
Now, before you get up in arms about the message, note the title: Radical Homemakers
. She's not painting a picture of 1950's ads. Rather, Hayes interviewed twenty families from around the country whom she would deem to be "radical" in their approach to keeping home these days. She showed men and women who shared the burden and responsibility of maintaining the home. Some kids were homeschooled, not only to provide a unique and opportunistic education, but also to maintain a peaceful, less hectic lifestyle. Some of the people she interviewed lived on farms and some gardened in their backyards in ghetto Chicago. She interviewed a diversity of people and lifestyles but all had one goal in mind: simplicity and health.
This book is divided up into two sections. In the first section, Hayes makes her case as to why it is beneficial for homes to have homemakers (for the benefit of the family and society at large). She talks about living locally and recognizing the differences between needs and wants. In the second half of the book she allows us to take a peek at the lives of those she interviewed to see how people across the country are moving away from corporate America to pursue something "different." She writes of these radical homemakers:
"In these households, men and women share both authority and responsibility. As we will see, these homemakers have evolved a more sophisticated view of what constitutes an economy, and they have surrendered a false sense of independence to embrace genuine interdependence. In place of conventional employment, these men and women build security through frugal living, domestic skills and reduced material needs. They have opted to trust and actively nurture their personal partnerships and to cultivate a web of family and community that supports them." (page 43)
I have booked so many passages and arguments that Hayes makes in this book and I honestly don't feel that I can do this book justice in an attempted review of it. In short, I agree with her premise that we don't need all the things we think we do, and are, in fact, hurting ourselves in trying to obtain the "American dream." Hayes lays out her case well, arguing her points with facts and figures that are motivational for change. I'm excited about this book and the message it delivers to a busy world of harried moms and I'm going to give this book five stars because I think it deserves it! If you are tired of the rat race and need a good argument to change your approach to life, then by all means pick up a copy of Radical Homemakers
! If you are already a homemaker and want encouragement and affirmation that you are doing the best thing for your family by staying home and 'keeping the home fires burning' then look no further!
I'm happy to say that the author has agreed to giveaway a copy of her book to one of you. But even if you don't win it, I hope you'll consider tracking down a copy. It's worth the time!
Leave a comment if you'd like to win. We'll announce the winner on June 9.
Carrie comes by her book obsession honestly, having descended from a long line of bibliophiles. She blogs about books regularly at Reading to Know.