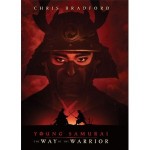 Note from the editor: We are pleased to have author Chris Bradford guest posting today and offering up so many wonderful reads. I am even more excited to let you know that we have 3 copies of the first two books in his Young Samurai Series to give away. Please leave a comment at the end of the post giving your thoughts, and you'll be entered to win. We'll announce the winners on June 9. THIS GIVEAWAY IS CLOSED.
Supposedly, boys don't read books.
After a certain age, the distractions of iPods, Gameboys and the internet shove the book aside, like older brothers in a rush for attention.
I don't believe any of this.
A book can be longer lasting than an iPod, more action-packed than a Gameboy and more informative and interesting that the internet. Hook a boy with the right book and all the gadgets in the world won't tear him away from his reading.
The difficult part is finding the right book.
From my experience as a touring author, my answer is to show boys how books can live and breathe from the page! Watch the youtube video of my US tour to see the results in action.
First and foremost, it's about finding a topic that engages boys and they can interact with on a real-life level. If all they ever play is an Xbox, start them on The Fall of Reach – Book 1 in the Halo series by Eric Nylund (recommended for older middle school and above). If they're into extreme sports, launch them into Saving the World and Other Extreme Sports (Maximum Ride) by James Patterson. If they're interested in technology, connect them with Dot Robot by Jason Bradbury. And if they train in martial arts or love Bruce Lee and Jackie Chan movies, throw Young Samurai: The Way of the Warrior at them.
The key element here is to plug into their everyday interests and let them live the book both in their minds and in their lives. Remember, every boy wants to be the hero.
The author's writing style is also crucial. Never-ending chapters and long paragraphs can be a turn-off to many boys. For reluctant readers, ensure the chapters are relatively short – between 3 and 10 pages at most. This technique provides lots of natural breaks and more importantly for a boy, gives a sense of progress and achievement. Books in this category include the James Patterson Daniel X novels, one of Good Morning America's Best Books for Boys, and the Alex Rider series by Anthony Horowitz.
Humour is the next big hook for a boy. They love a good laugh and there are some cracking books out there. A simple easy entry series is any one of the Wimpy Kid diaries by Jeff Kinney. But if you're keen to move them on from comic-based books, then try Skulduggery Pleasant by Derek Landy – a witty, quick read about a wise-cracking skeleton detective. The classic, though, is Artemis Fowl by Eoin Colfer. An action-packed plot, great writing and a farting dwarf. What more does a boy need?
And if that doesn't work… scare them to death with Lord Loss by Darren Shan, the first in the demonata series. Or my favourite, The Enemy by Charlie Higson, a future dystopian story where grown-ups eat children! It sounds horrible but is probably the most gripping children's book I've read in a long while…
In the end, it doesn't really matter what boys read – as long as they read. For once they have the right book in their hands, they're hooked for life!
Chris Bradford is the author of the award-winning Young Samurai series, a tale of adventure, friendship and heroism that follows an English boy as he strives to become the first foreign samurai. (www.youngsamurai.com )
Chris is a black belt in martial arts and lives in a village in West Sussex, England, with his wife.