I enjoy a book series, because it allows me a chance to really get to know the characters beyond the limits of a single book. Especially when the characters are as endearing as the citizens of Daily.
Never Say Never is the third book in Lisa Wingate's series about the small Texas town. I reviewed the first, Talk of the Town, here. I reviewed the second (and equally delightful) installment, Word Gets Around, here. Although they're a series, each book stands alone well.
In Never Say Never, Wingate lets one of my favorite characters, Donetta (who reminds me a litte of Truvy in Steel Magnolias), take turns narrating with Kai Miller. Kai is a drifter who crosses Donetta's path as they flee from a hurricane. When Kai lands in Daily and meets Donetta's handsome nephew, Kemp, sparks fly.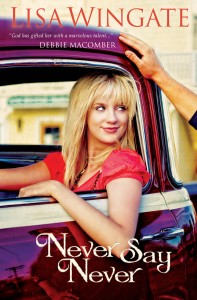 Meanwhile, Donetta tries to hide her disappointment that her husband, Ronald, left on a fishing trip while she battled a hurricane to get home. But she's got her hands full with feeding hurricane evacuees, trying to push Kai and Kemp together, and scheming against archenemy Betty Prine.
Wingate has written wonderful characters who make me laugh and cry. Returning to Daily was like visiting old friends. I hope Wingate takes us back again.
Thanks to the staff at Bethany House for allowing me to review this great summer read.
Melissa has been captivated by books for as long as she can remember. She resides in Virginia and blogs at Breath of Life.