I first visited Daily, Texas last Spring when I read Talk of the Town by Lisa Wingate, which I reviewed here. I was more than glad to go back for a second helping of Southern hospitality in the stand-alone sequel Word Gets Around.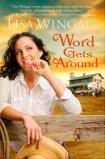 I met up with old friends Imagene and Donetta, and found a new one in Donetta's niece Lauren.
Lauren fled from Daily two years earlier following the tragic death of her husband. She succumbs to her father's cajoling and returns to help train an old horse for a movie to be filmed right smack in the middle of this cozy little Texas town. Nathaniel Heath is the handsome script writer who's along for the ride with his childhood friend, movie star Justin Shay. Lauren and Nathaniel alternate narrating their blossoming romance, sharing tidbits of their pasts and their common hope for a future.
The plot is nothing new. Boy meets girl. Boy and girl are complete opposites. Boy and girl fight their obvious attraction. Wingate's strength is capturing the heart of her characters, through their pain and their wit. My favorite characters are Pastor Harve and his wife Miss Beedie, who actually take up very little space in the pages yet are part of the most poignant scene in the book. I found myself crying, only to be laughing a few short pages later.
I'd like to visit with Imagene over a nice slice of pecan pie, so I hope Wingate takes us back to Daily soon.
Melissa has been captivated by books for as long as she can remember. She resides in Virginia and at Breath of Life.



To enter the 2009 Mothers Day Giveaway of Word Gets Around, leave a comment below.
All Mother's Day Giveaways are open to U.S. shipping addresses only.
The giveaway will close on April 30, and the winner will be announced on May 1.
For information on how to enter the grand prize to win a copy of each book in the Mother's Day Giveaway worth over $225, see the instructions on the main post.
Check out the list of all Mother's Day giveaways. Enter to win each book by leaving a comment on that post.