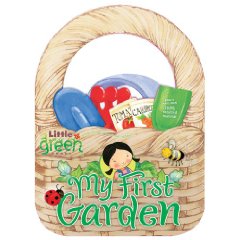 The folks at Simon & Schuster are catching on to the idea of earth friendly books and have produced some reading material for children under the Little Green Books header. I simply had to check them out when I heard about them. The following books are made of recycled material, in whole or in part, and are made to be safe for little hands and little mouths.
My First Garden
is made out of 100% recycled material and addresses the subject of colors from the perspective of garden growth. For example, there are pretty PURPLE turnips and bright ORANGE carrots. The book is shaped somewhat like a basket and is very sturdy (although I would watch how much contact little mouths had with it!).

They also offer two cloth books for babies. Both of the books, Little Monkey
and Little Panda
tie into one another in that Panda & Monkey are friends and enjoying being with one another as they play in trees and laugh. Each book is packaged in a brown cardboard box, which, of course, is made of recycled material. (The books themselves are made with 50% recycled material.) These are soft, baby friendly books that would make perfect gifts for young ones who want to both taste and cuddle and are drawn to friendly animal faces. They really are quite cute and lovable.

I like the fact that Simon & Schuster is trying to be more forward thinking (backward thinking?) in their approach to using recycled goods — esp. for books for babies. Books that go in babies mouths really don't last long and can't easily be passed down from children to children. Therefore I find it easy to advocate the use of recycled material for the kids as it seems the best use of material. Sure it would be nice to hang on to baby books for awhile but as little hands are learning to be gentle, I'd rather them have something that has been well used as they put it to good use. The baby books, by the way, are incredibly easy to toss in the wash which is another thing that makes them totally appealing.
You can visit the Simon Little Green website for more information about these books and the idea behind them. You can also play games with your kids and learn more about how to live green. It's a pretty catchy and informative little site if you want to hop over and take a peek!

Better yet – Simon & Schuster have graciously agreed to give away one Little Panda and one Little Monkey book to one of you! The winner must be a U.S. resident. In order to win these two books, please leave a comment below!
In the midst of our fantastic Mother's Day Giveaway, we still wanted to feature our regular Wednesday giveaway. So leave a comment here to enter and come back next Wednesday to see if you won. Also I wanted to let you know that the 5 Minutes for Mom Mother's Day Giveaway just began and has some GREAT prizes.

5 Minutes for Going Green is hosting Earth-friendly giveaways all week as well, so check them out.

The winners of Harry Potter and the Sorcerer's Stone are
#2 Crystal
#5 Sassle
#31 Judith T.
#56 Catherine
#78 Israel Y.

The winner of Greetings from Kiwi and Pear is #23 Shelly T.
Carrie comes by her book and holiday obsession honestly, having descended from a long line of bibliophiles. She blogs about books regularly at Reading to Know.