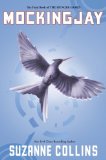 Mockingjay.
This is the one word that's been on many, many lips since the third book was announced in The Hunger Games trilogy by Suzanne Collins. Forget sparkly vampires, this one is all about a dystopian world in which society as we know it has been gone for quite some time, and in its place is a controlling and abusive government called the Capitol which keeps order through horrific measures.
*You can count on me to leave out any spoilers for Mockingjay, but if you haven't read the two previous installments of the trilogy, you might want to get thee to a library/bookstore/friend's bookshelf before reading further.*
We first met Katniss in The Hunger Games (linked to my review), the teenager from District Twelve whose life of daily struggles changes the instant her younger sister's name is drawn as a Tribute to be sent to the yearly Hunger Games– a televised national "competition" in which two children from each district are sent into an arena where they must fight to the death until one Victor can be crowned. Katniss volunteers in her place, and we follow her into the arena of the 74th Hunger Games.
With Catching Fire (also linked to my review), we learn that not even Victors get to live happily ever after as Katniss once again finds herself in the Hunger Games arena. The plot twists in book one have forced President Snow into an undesirable position, and the one thing he cannot have is unrest in the districts. With that in mind, it appears that the Capitol is determined to take Katniss out before she embodies the rallying cry a nation needs to rebel.
That's where Mockingjay begins, and just to be safe, I re-read both previous books in the two days leading up to the delivery of my pre-ordered book. I was ready to jump right back into action by Katniss' side, and I prepared myself for what I knew would be another intense experience, knowing that Katniss would have no home to return to in light of the rebellions now united by the symbol of the mockingjay. Yes, the action and intensity are on par with the others, but there's a growing sense of hopelessness in this one that tore at my heart. The atrocities that can be justified by people in power are again overwhelming, and the socio-political statements here are as thinly veiled as ever. The irony in the "Peacekeepers" moniker is just the beginning, and there's so much that can be dissected, discussed and pondered over in this world that Collins has created- a world that reads in horrors, so unreal and unimaginable, until tiny cracks of reality peek through. It's beyond horrific to think that anything like this could ever truly occur, but it's even more frightening to imagine the small events and actions that could eventually lead to something none too different.
Without revealing any spoiler info, I have been reading discussions taking place on other book blogs, and the common theme has been personal reactions to the ending. I've read much grumbling about the ending by some folks, but I have to say that it worked perfectly for me. Perhaps I'm easy to please, but I didn't bristle at one aspect of Collins' choices in the end, even though I mourned the ending of series that simultaneously horrified and fascinated me for two years.
Brilliantly conceived trilogy, so of course, Mockingjay must join its predecessors on our 5 Star Reads list!
I'd love to hear what you thought– did Suzanne Collins come through for you? Were you rooting for Gale or Peeta to win her heart (or maybe neither??)? Did the ending leave you satisfied, frustrated or just wanting more? I cannot guarantee that the comments will be spoiler-free, so readers be warned. But really, if you haven't read these books yet, what are you waiting for?!
***Check out our very limited edition ipod touch with Mockingjay emblem giveaway at 5 Minutes for Mom***
Dawn parented for three days straight with her eyes behind a book, and thankfully her children are no worse for the wear. She even blogged at my thoughts exactly in the wee hours of the morning upon finishing the book.