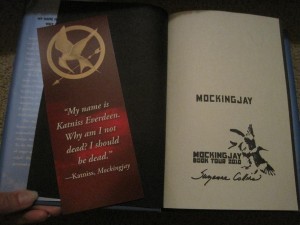 Suzanne Collins lives in my area. Yes, THE Suzanne Collins. She generally does library and school appearances and signings, but the past couple of years, she's been very busy with the release of Catching Fire and Mockingjay (linked to Dawn's review), and I don't know if you knew that she's writing the screenplay for The Hunger Games movie right now — so we haven't been able to see her.
When my daughter Amanda and her good friend Haley found out she was going to be doing a reading and signing about an hour away, her mom and I bought the tickets (a hardcover copy of the book at full price, even though I had already preordered one at an incredibly low price at amazon) and made plans to attend. Since the event was on Friday August 27, I kept my amazon order so that Amanda could read it beforehand.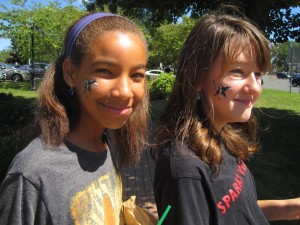 The girls were decked out and ready to go — each wearing limited-edition shirts — Haley (left) in a prototype Mockingjay shirt that she received months ago, and Amanda in her Catching Fire shirt that my contact hooked us up with. They are also sporting mockingjay tattoos.
Since I didn't want to pay $19.00 for another book, and since it was billed as a reading only with no Q&A, the other mom and I decided that we'd just let the girls go, and we'd wait for them outside.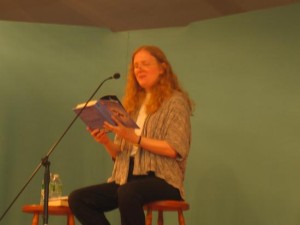 Amanda said that Collins read from Catching Fire first, so that they could get a feel for the reading. Then she moved to the much-awaited Mockingjay, and the house went silent. No one whispered, no one moved. Everyone listened raptly.
After the short reading, they stood in line to get their books stamped with a special limited-edition stamp only used for this tour (seen above). Due to hand strain, she's only stamping and not personalizing (which was well-publicized when we bought the ticket).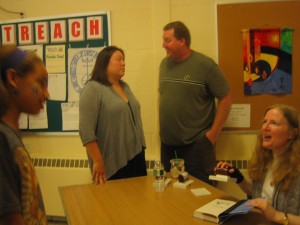 Per Suzanne's taped Q&A that appeared at the Scholastic On Our Minds blog, she is tired and in need of a vacation. I believe it! I'm sure that's one reason that most of her publicity tour seems to be occurring within a few hours drive of her home. But don't despair. You can hear her read the first chapter of Mockingjay right now, controversial accent and all!! Check it out at the On Our Minds blog.
Want more Mockingjay? Check out Dawn's spoiler-free review, and if you haven't already, click over to 5 Minutes for Mom to enter to win a very limited edition 8GB Ipod Touch with the mockingjay emblem on the back!
Jennifer Donovan is so pleased that her daughter shares her love of reading and books and the respect for those who create them. She writes more about motherhood at her blog Snapshot.