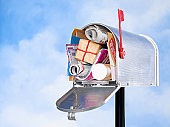 Oh how much we book bloggers love those men and women in blue, those in brown, and those who drive those big white trucks with the green and purple logo.
This is what we found in our mailboxes this week. Click over to Chick Loves Lit to see what other bloggers have bought or received or been surprised by this week.
While you're here we invite you to check out our current giveaways, subscribe to our feed, and/or follow us @5M4B on Twitter.
JENNIFER
Every single book that I received this week was unsolicited and for review (except Mockingjay (The Final Book of The Hunger Games), which I preordered like every other book blogger in the world). Speaking of Mockingjay, if you are a fan (or a fan of a free Ipod Touch), but sure to click over to enter our very limited Mockingjay Ipod Touch over at 5 Minutes for Mom.
NANCY
For the kids:
Chicken Big – Chicken Little, except not. My kids loved this retelling of the classic tale.
For me:
Solid by Shelley Workinger – Shelley was a member of my library book group back in New Jersey, so when she told me she had written a book, I was intrigued. It's a YA sci-fi novel and it looks really good, and the reviews so far have been stellar.
French Letters:  Engaged in War by Jack Woodville London – I love WWII books, and this is part of a trilogy but the books take place in parallel so you don't have to read them in order or even all of them. This is the second book so I'm hoping I love it so I can read the first one too.
Mockingjay by Suzanne Collins – need I say more? I also got The Hunger Games, I already own Catching Fire so now the set is complete.
To listen:
Wicked Appetite by Janet Evanovich – This is the first in a new series that's a spin-off of the Stephanie Plum books.
LAUREN
The Unofficial Guide: The Color Companion to Walt Disney World – Although I am 36, I love Disney World as much as a child. Our family has visited Disney World almost every year since 2004. Because of this, I have read many Disney guide books. By far, the one I recommend the most is The Unofficial Guide to Walt Disney World. If you ever need help with planning a trip, this book is FULL of information. I don't need the details as much anymore, but I still enjoy reading up and feeling the magic before a trip. This year, I ordered the The Unofficial Guide's Color Companion. It arrived in the mail, and I can't wait to dig into it. I know my kids will enjoy looking at it with me as well.
The Confirmation – This book is about a conservative president nominating a replacement for the Sumpreme Court, while dealing with other national and international issues. I haven't read a political thriller in a while, so I am looking forward to this.
Not Your Parents' Money Book: Making, Saving, and Spending Your Own Money – My husband and I try to teach money lessons by example, but my eight-year-old son is ready for more information about money management. I am excited to find out what Jean Chatzky has to say to kids about these important issues.

So what do you think? Which books would you be interested in reading (or seeing us review)?