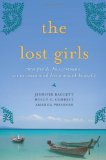 The Lost Girls: Three Friends. Four Continents. One Unconventional Detour Around the World. is the story of 3 late-twentysomething women who left their jobs and personal lives behind in New York City to travel the world for an entire year. Jennifer Baggett, Holly C. Corbett, and Amanda Pressner each come to the trip for different reasons and with different points of views. The shift from person to person helps us to get a more complete perspective of the trip, but also cuts the depth, as we don't get to know the full affect that this trip had on any one person.
I have a feeling that everyone will identify most with one of the girls, which makes the 3 alternating point of views interesting:
Holly is a sweet optimistic girl with a thirst for adventure and "authentic" travel experiences.
Jen is dramatic and probably the most introspective of the 3 — really trying to figure out where she is going to go next in life.
Amanda is probably the most fearful — having trouble letting go of her freelance work at first, which hampers her ability to let go, but I think that she also grew the most.
It's a bold move and one that I envy, but this story will probably be received better by single women in their 20s who are wondering where to go next. I could relate to that theme in a different way — being a woman who is almost 40 and looking back at what I've done and I've yet to do as my children are growing more independent each year. For a book as long as this one is, it probably lacks some depth — both in character growth and information about all of these fabulous places that they traveled.
So, if you want to live vicariously through three single women as they travel the world, and look more deeply at the whys of their trip than the actual what and where, The Lost Girls may be for you, especially if you are in this place of limbo yourself.
Jennifer Donovan would love to travel the world, and would probably not even need a jet to do so if she was able to sell a book deal about said trip. In the meantime, you can find her happily at home at Snapshot blog.