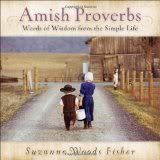 I have read many Amish fiction books, and I enjoy escaping to a place where life seems calmer, more family-centered, and people are honest and hard-working. In April, my husband and I visited Lancaster County, Pennsylvania, and spent the day touring and learning more about the Amish lifestyle. Although I know I would never be able to adhere to the Amish way of life, I do believe that all of us would benefit from incorporating some of their attitudes into our busy schedules. In her new gift book, Amish Proverbs: Words of Wisdom from the Simple Life
, Suzanne Woods Fisher provides a collection of wise Amish sayings that all of us can heed and treasure.
Suzanne Woods Fisher's interest in the Amish community stems from her own family heritage. Her grandfather, W. D. Benedict, was raised in the Old Order German Baptist Brethren Church in Franklin County, Pennsylvania (Benedict eventually became publisher of Christianity Today). It is fitting that the sayings in Amish Proverbs
sound like the wise words that would be passed down from grandparents to grandchildren. The book includes proverbs about time, money, faith, children and family, handling adversity, etc… I love this one: Swallowing pride rarely gives you indigestion. Doesn't that sound like something a grandfather would say?
While the proverbs are the focus of the book, the many photographs are a beautiful addition. After visiting an Amish community myself, I can say that the pictures wonderfully reflect the Amish lifestyle and enhance the messages of the proverbs as well. This book would make a wonderful gift for any fan of Amish fiction or anyone interested in a simple, godly lifestyle.
I am happy to say that we have a copy of Amish Proverbs: Words of Wisdom from the Simple Life
to give to one of you. Please leave a comment on this post to enter. We'll announce the winner on September 8.
Additionally, Suzanne is giving away a KINDLE! Be sure to click the icon below for more information. Suzanne will also be having a Facebook party on September first to celebrate the release of her new book. She'll be announcing the winner of the Simple Wisdom KINDLE giveaway (see below), chatting with readers, and giving away copies of Amish Proverbs and The Choice! Be sure to join the fun on Wednesday, September 1st at 8PM EST at Suzanne's Author Page.
Check out our current giveaways. Subscribe to our feed. Follow us @5M4B on Twitter.
Lauren is a wife, mother of two, and an avid reader. She blogs at Baseballs and Bows. Lauren doesn't think she could live the Amish lifestyle all the time, but she sure would enjoy the food! Thanks to Litfuse Publishing for providing the review copy of this book.