Over a year ago, Jennifer and I co-reviewed a book that intrigued us both- Free-Range Kids by Lenore Skenazy, and personally, I haven't stopped thinking about the book since then. Lenore's blog, also titled Free-Range Kids, is a regular online stop for me, and my curiosity was instantly piqued when I read the guest post: How to Get Kids Outside & Exploring Again. After an online inquiry, I found myself holding the neatest little book that encourages older children to explore their worlds in a completely unconventional way — Mission: Explore by The Geography Collective.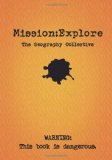 The simplest way to describe this book is to say that it consists of 102 individual adventures or tasks, referred to as "missions" throughout, for older children to complete in their own neighborhoods. Space is provided for recording information, creating sketches, or collecting small items associated with the missions. Some basic common sense advice is included for safety, as well, and the tone of the book conveys the confidence that readers will be able to successfully tackle the experiences and have a boatload of fun at the same time.
But, that description is perhaps a little too… adultish.
Excuse me while I channel my inner eleven year old… This book is just TOO cool. The small paperback could fit really well in the cargo shorts I'd be wearing when I hopped on my bike to ride around my neighborhood streets. The silly drawings would crack me up, but my favorite part of the book would definitely be the missions that involve creative thinking and making observations of the places I already know well, but make me look at things in a whole new way. I totally get that the authors have to put in those warnings and safety tips, but I love that they don't talk to me like I'm a complete idiot. The warnings are pretty common sense and joke around a lot, too. I'm pretty sure several of the warnings tell you not to do certain things so you don't end up puking all over. (Remember, I'm eleven- puke jokes are funny!)
Alright, my inner child is on break, but even from my adult perspective, all I can do is sing this book's praises. I can absolutely understand why Lenore Skenazy invited Daniel Raven-Ellison, one member of The Geography Collective, to contribute to her blog, because Mission: Explore is the type of book that encourages kids to try out some new adventures, with an inherent trust that they can be thoughtful and responsible while doing so.
I feel like I don't want to give away too much about the actual content and missions, but if you want to do some of your own exploring be sure to visit the Mission:Explore website, where you can sample a few of the missions and learn more about the conception of The Geography Collective. Trust me, this book is just awesome!
(Sorry, the eleven year old needed to have the last word, apparently.)
When she's not reading, Dawn (and her inner eleven year old) blog at my thoughts exactly.