In the two days that I spent reading the pages of The Help, I didn't want to do anything else. I reached for the gold cover frequently in lieu of talking on the phone, watching TV, doing housework or anything else.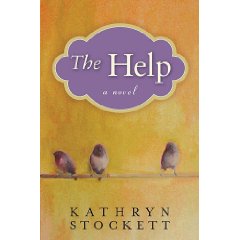 This book is well-written on so many levels. It's one of the books about which I want to simply say, "Read it. Trust me — just read it." But I'll try to be more specific. The story is clearly told using alternating points of view (which is a device that I love but is sometimes poorly done). Since two of the three narrators are Black maids living in Mississippi in 1962, they speak in dialect. I have recently realized that I do NOT like reading novels written with too much dialect, but author Kathryn Stockett solved the problem. Instead of a lot of apostrophes and whatnot, she simply wrote the speech out phonetically, so it was readable. It's hard to explain, but if like me you struggle with reading dialect, even if you like the local flavor it creates, trust me that Stockett has done it right.
The characters are so well-written. I grew to love the three main characters and to feel a kinship with them even though my own life and experience couldn't be further away from theirs:
Skeeter is in her early twenties. She returned home after college and now spends her time writing the Junior League newsletter and playing bridge with her high school friends who are now wives and mothers because each dropped out of college once they got their M.R.S. degree.
Minny is a maid whose good cooking trumps her quick temper (which caused her to lose a few jobs). She's closest to my age and yet the most different from me. The many challenges she has endured gives her a quiet strength and make this prickly woman one who I long to be able to hug (Am I weird? Does anyone else wish that they could hug characters who exist only on the page)?
Aibileen displays courage and understanding and above all else — love and forbearance. She's older, having raised a son of her own along with the seventeen white children she's raised. In spite of their age difference and difference in temperament, she and Minny are best friends.
The minor characters are fully developed as well. They lean a bit closer to stereotype, but Stockett avoids predictable stereotypes even for characters who are stereotypical (after all, we have stereotypes for a reason). They are complex and even though there are villains, they are not simply one-sided.
I have a feeling you are going to be seeing and hearing a lot about this book. I can't recommend it highly enough. In fact, I don't usually make this leap when I'm reading novels, but I think it would be an excellent books for teens to read. Other than a bit of mild profanity, which they probably encounter in their assigned reading at school, there is one scene involving a flasher that is fairly explicit, but if you think that your teen can handle that, it's such a wonderful story showing how things used to be, but more importantly how far we've come as a nation, or more to the point of the book, how nothing will change if people aren't willing to take the risk of being change-makers. (Interesting note — even though this is marketed to adults, I noticed — after making this observation on my own, that amazon has it listed at #4 in the teens — historical fiction category).
I wrote a little bit more about my own personal experience with "help" in the early 1990's in the South on my blog Snapshot if you're interested.
This review, and my response to the book, isn't about me though. It's not even really about race relations. It's about growing up and growing old. It's about courage, strength, hope and defeat — being a mother, a daughter, a friend.
It publishes today, and as always, amazon has a great price.
This is yet another excellent book from MotherTalk.com.
Managing Editor Jennifer Donovan also blogs at Snapshot about life with her tween daughter and preschool son.
Check out Christie O's review of The Help movie, complete with some behind-the-scenes info.