I've been hooked on Angela Hunt books every since I read The Pearl. I was ecstatic to find her latest release, The Face at my library.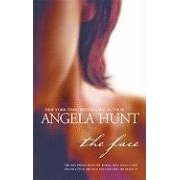 The story is told by Sarah Sims and her aunt, Renee Carey. Sarah is a 20-year old orphan who's spent her entire life in a CIA "black" facility. She's never been off the secluded island, preferring to live her life through movies and surveillance of top-secret CIA operations. She fears the outside world because she lacks the one thing she feels she needs to function - a face.
Renee Carey is a divorced psychologist who discovers Sarah's existence only after her mother dies. With no other family, Renee sets out to gain CIA clearance and access to Sarah. After the initial shock of meeting Sarah, Renee works to forge a bond with her niece. It isn't easy, because Sarah's handicap extends beyond the physical. Her time on the island has left her socially inept. Renee opens up a world of possibilities to Sarah by introducing her to the possibilities of a face transplant and life outside the CIA facility.
Hunt has obviously done her homework. Her in depth descriptions of the technology and CIA procedures are reminiscent of one of my favorite television shows, Alias . (In fact, Hunt gives a hat tip to the show.) And, as usual with her work, she raises questions about our relationships and our self-awareness that go beyond the story itself.
I couldn't put this book down. It was so good, I'll put it in the top 3 of the Hunt books I've read. If you like espionage and thrills, you really should check out The Face.
Melissa has been captivated by books for as long as she can remember. She resides in Virginia at at Breath of Life.