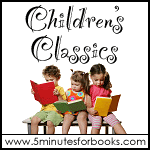 The power of a quality children's book can often lie in the things that come after a reading. Think about it, isn't it amazing when your child discusses something in the here and now of her life and relates it back to the story you read together the night before? As a preschool teacher, I always wanted to make sure that my classroom library was full of books that related to the children's experiences, whether it was the topic that we were investigating or something as simple as having construction books available when the buildings near our school were transformed into construction zones.
Another way I've tried to connect literature to the real world has been to set up experiences that related to the books we've loved. I've professed my love for Mo Willems' work here before, and I cannot emphasize how much joy my son took in reading Don't Let the Pigeon Drive the Bus! while we rode together on a shuttle bus each day. When he and I were immersed in world of Ramona, we looked at photos online of the Beverly Cleary Sculpture Garden, and I promised that if we ever found ourselves in Portland, Oregon, we'd be paying it a visit. And of course, someday we'll be living it up at the Eric Carle Museum of Picture Book Art when we just happen to be in Massachusetts.
How about you? Have you and your children been inspired by a book to visit someplace special, or have you sought out connections in your own neighborhood or area based upon your child's love for literature? Please share your stories or link up to your own blog post here in our comments section.
And yes, while there are places I'd like to take my kids someday, over on my own blog today, I'm reminiscing about a trip that we took that provided one of my favorite pictures of me and my first-born, sitting among some of our favorite book characters. What's your story?
While you're here, get out your calendars for what's in store over the next few months:
Children's Classics:
August 11 — Adventure! (i.e. any adventure or suspense stories– any children's reading level)
September 8 — Back to school books
October 13 — Re-reading a childhood favorite
November 10 — Celebrating the holidays
December 8 — Children's books you love to give

Upcoming Bookclubs:
August 4 — Rebecca by Daphne Du Maurier
September 1 — Rooftops of Tehran by Mahbod Seraji
Dawn is that mad woman that you hear shrieking with joy in the new children's book section in the library. She can also be found shrieking online at my thoughts exactly.